Acclaimed Authors to Speak at Symposium, Conference
A pioneering American novelist and a former California Poet Laureate will be the keynote speakers at two April events being organized by graduate students and faculty in World Cultures.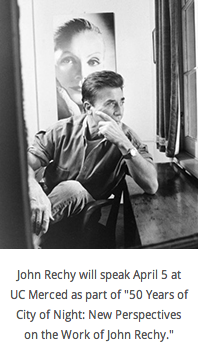 John Rechy has written 15 books, including 1963's "City of Night," which explored the gay hustling subculture in Los Angeles. Rechy, whose work has played an important role in gay and Chicano literature, will be the keynote speaker at "50 Years of City of Night: New Perspectives on the Work of John Rechy," which is on April 5.
Al Young has authored 22 books and twice received the American Book Award. He was appointed California's Poet Laureate in 2005 and served until 2008. Young will be the keynote speaker at "From Monadism to Nomadism: A Hybrid Approach to Cultural Productions," a conference that goes from April 12-13.
Both events are funded by UC Merced's Center for Research in the Humanities and Arts, and open to the public.
The symposium on Rechy is being organized by graduate student Beth Hernandez-Jason, literature Professor Manuel Martin-Rodriguez and history Professor Mario Sifuentez. The interdisciplinary event will have speakers from the fields of history and literature, and topics will range from sexuality to film, historical reception and Los Angeles/urban centers.
"City of Night," published in 1963 by Grove Press, was widely read by people of different sexual orientations, ethnic identities and nationalities, Hernandez-Jason said. The book paved the way for future authors to write openly about homosexuality.
"John Rechy is a groundbreaking author because his early work explored homosexuality and sexuality in general, and ethnic and class identity at a time when it was still very uncommon," Hernandez-Jason said. "While his work is valuable for the way it documents what it was like to be a gay American man in the 1960s and 1970s, it is also great literature, and it has influenced a number of filmmakers, artists and other authors, including Gus Van Sant and David Hockney."
The conference on cultural productions is being organized by a group of World Cultures graduate students, coordinated by Marco Valesi and Paola Di Giuseppantonio. The conference will be an opportunity to highlight research done by graduate students at UC Merced and across the world. The event will focus on the intersection and interplay of cultural studies, social sciences and humanities. It should also encourage the exploration of various theoretical frameworks, case studies and fieldwork, and research.
By juxtaposing issues such as intercultural negotiation, trans-(post)modern society, migratory aesthetics, diverse understandings within liquid societies and symbolic struggle, the conference will provide a venue to explore the post-(de)colonial dilemmas created by the reinvention and promotion of culture as a coherent and diverse reality.
"It is an honor for us to host the first graduate student conference at UC Merced and to have poet Al Young as our keynote speaker," Di Franco said. "The theme chosen is compelling and very multidisciplinary, and we have already received high-quality, cutting-edge contributions both from U.S. and foreign institutions.
"This conference will be an opportunity to show innovative multidisciplinary approaches developed by the World Cultures graduate group since its inception in 2005. We encourage undergraduate students who want to learn more about research in the humanities and social sciences to participate in the event."