Art Show Turns 10, Bids Farewell to Founder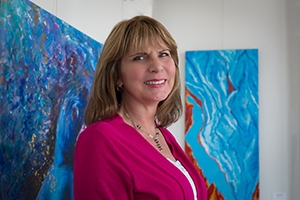 Gail Benedict left San Diego 14 years ago to join the intrepid team charged with creating the University of California's newest campus in the heart of the Central Valley.
Like many, she came for the rare opportunity to start something new. A lifelong supporter of the arts, the first thing Benedict did was create the Bobcat Art Show, a juried exhibition of works submitted by campus community members.
This year marks the 10th and final show for Benedict, who retires in June after 24 years of service to the University of California. She's seen the campus grow from 875 students that first year to more than 6,300 now, and the Bobcat Art Show continues to thrive.
"In the beginning, it was a family arts show because we weren't sure we'd have enough entries to form an entire exhibit," she recalled. "It grew faster than we could have imagined."
In the art show, which opened Monday in the UC Merced Art Gallery (SSM 106) and runs through May 5, students, faculty members and staff members compete in five categories: painting, drawing, photography/digital media, mixed media and sculpture. Aside from a winner in each category, there is also an Audience Award, determined by the entry that receives the highest number of likes on Facebook.
"It gives everyone a chance to be heard," Benedict said of the social media aspect of the show. "Often, this is the first time an artist has publicly shown his or her work. The Audience Award encourages exhibitors to show this side of themselves with others who may not know their talents, and it gives family and friends a chance to rally behind them."
Marielle Rizon has gone from entering the show to working on it. The psychology major from Visalia is an assistant curator, meaning she gets to help install the exhibit in a way that's visually appealing to viewers.
"I love how this show gives our campus community an outlet to express themselves artistically," she said. "Art is subjective. I feel like we do a great job of pushing the boundaries of what some might think art is and isn't."
Reception Set for April 13
Winners in each category will be announced at a reception at 4:30 p.m. April 13 in the art gallery. About two dozen pieces from the show will be on display, and the rest will be curated on the second floor of the Leo and Dottie Kolligian Library.
The art show isn't Benedict's only stamp on the campus community. In 2008, she and Professor Dunya Ramicova cofounded Arts UC Merced Presents, which brings various live performances to Merced. Past entertainers have included Big Bad Voodoo Daddy, the Lula Washington Dance Theatre and Ladysmith Black Mambazo.
"We are both very proud that we've brought the arts to thousands of people, and in doing so, have followed in the tradition of arts presenting programs at our sister UC campuses," Ramicova said. "None of this would have existed without Gail. She has worked tirelessly to support the arts both on campus and in the community."
As for the future, Benedict believes it's going to be a bright one for Merced. She's looking forward to supporting the local arts community while spending more time with her family in Southern California.