Bobcat Art Show Showcases Campus Talent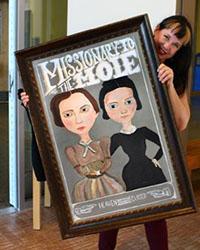 UC Merced artists are sharing their best work this semester in the eighth annual Bobcat Art Show.
The exhibit runs from April 1 to May 2 and entries can be seen at the Leo and Dottie Kolligian Library and the UC Merced Art Gallery in the Social Sciences and Management Building, Room 106.
"The Bobcat Art Show is a chance to appreciate all the artistic talent we have on campus, which includes students, faculty and staff," exhibition manager Gail Benedict said.
The opening reception for the Bobcat Art Show will be from 5:30 - 6:30 p.m. at the UC Merced Art Gallery.
The exhibit is free and open to the public. The library's hours can be found online. The gallery is open from 11 a.m. to 4 p.m. Monday through Thursday.
The art exhibited includes different mediums such as painting, drawing, photography, sculpture and mixed media. Like last year, students from Professor ShiPu Wang's curatorial studies course will assist in the show's installation and judging.
Kelly McNeil, who is set to graduate in May with a management degree, decided to enter the art show with her piece "Missionary to the Mole: Emily Dickinson" after taking two classes last semester.
In Professor Katherine Brokaw's literature course, she learned about Emily Dickinson and was inspired to paint a portrait. She was also in lecturer Karen LeCocq's painting class, which gave her the skills to undertake the acrylic painting.
"I am proud of the journey that I undertook to produce this piece," McNeil said. "It may not be the best, but I truly love the result, and hope others will see and be inspired by my art and by Emily Dickinson."
Student work entered in the exhibit could win "Best Student Artist" awards in the categories of painting, drawing, sculpture, photography/digital media and mixed media.
"For many participants, this is the first time they have shown their art to the public. It is an invaluable experience for them," Benedict said.
The art show is presented by the UC Merced Art Gallery, Arts UC Merced Presents and the UC Merced Library.
Arts UC Merced Presents is now in its fifth year as an arts-presenting program. Its mission emphasizes art that educates, enriches and entertains. The annual Bobcat Art Show strives to uphold this belief by expanding the understanding of contemporary art and multimedia. As a result, all submissions are accepted, giving all participants an equal opportunity for their work to be displayed.