Buildings, Space Are Campus Employee's Final Frontier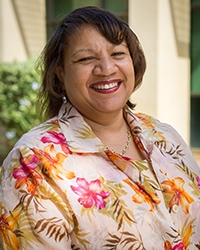 Ramona Dai'Re knows space is one of UC Merced's most valuable and scarce assets. Her job is to help keep track of it.
Dai'Re (pronounced duh-RAY), who works in the Division of Planning and Budget's Real Estate Services, is the system administrator for Facilities Link, the tool used to catalog all of UC Merced's owned and leased buildings.
"The system covers the inventory of all buildings — classrooms, offices, labs, corridors, bathrooms — anything and everything that has to do with the building and its square footage," Dai'Re said. "I maintain the records and drawings for every inch of the campus."
This fall marks her ninth year at UC Merced. Like many others, she joined the campus because she wanted to play a part in establishing a new research university. Before working here, Dai'Re worked for 10 years at California State University, Stanislaus, and for eight years before that at UC Davis.
Originally from Southern California, Dai'Re and her husband, Angelo, have called the Central Valley home for the past 30 years. They have six children and 10 grandchildren. One of their daughters, Danielle, works at UC Merced in the Office of Research and Economic Development.
Please describe what your job entails.
As the system administrator for Facilities Link, I am responsible for the oversight and development of a database integration strategy for maintaining and integrating campus facilities databases. Those include geographic information system (GIS) campus maps, computer-aided design (CAD) floor plans, project drawings, occupancy and capital project databases. The goal is to have an effective vehicle for the review and integration of all these separately maintained databases that results in an accurate and integrated view of the data.
What are some of the most rewarding aspects of your job?
I get to meet with a lot of different people to discuss their space. I walk the space, talk to people and find out who sits where. This helps me learn and understand how others utilize and work in their space. For example, at Castle in the Admissions department, they have discussed space needs for their student workers. They have to have space where those students can work. I get a much better understanding of those type of issues.
What are some of the challenges you face in your role?
Keeping up with all of the changes regarding space while keeping the system current and accurate. We are a growing campus, so changes and updates are a moving target.
What new initiatives/projects/plans are you looking forward to in the coming year?
Some significant upgrades are coming to Facilities Link that will make it more simplified and user-friendly. Facilities Link will include more robust features, and we are introducing some new modules that are pretty awesome.
I'm working with Assistant Vice Chancellor Abigail Rider to inform the campus of the benefits of Facilities Link for the campus as a tool where information can be instantly, accurately and completely disseminated, and the importance of continually updating the data to achieve these goals. Facilities Link will debut its new look soon, and I'm working with Mary Weppler-Selear, archivist for Design and Construction, to organize a demonstration and training for site users.
Tell us something about you that people on campus might not know.
In my former life, I was a litigation legal secretary for one of the largest law firms in Los Angeles. As I was preparing to leave that job, John F. Kennedy Jr. was coming in to start an internship. He was in his last year of law school. I didn't get to meet him, but I did see him.
Other things people may not know: I use essential oils and aromatherapy, and I love to share their amazing uses and results with friends and relatives. Also, I used to teach at-risk youth for a few years at Delta College in Stockton.