Campus Community Raises Money, Toys for Merced Kids and Families
Children and families throughout Merced will enjoy a happier holiday season thanks to the generosity of UC Merced faculty and staff members and students.
Campus community members participated projects throughout the month to help area families in need, including book and toy drives and adopt-a-family programs. They also gave money and their time. In some instances, organizers exceeded their giving and collection goals.
"We were overwhelmed by the response we received for the Adopt-a-Family project," said Vernette Doty, associate director of the Office of Student Life. "The campus community came together to support families in Merced in a powerful and generous way and we're grateful for their response."  
The Office of Student Life, Civic Leadership (OSL), Office of the Chancellor, Staff Assembly and several student groups collaborated in their giving efforts in support of All Dads Matter, a program of the Merced County Human Services Agency that provides resources, encouragement and support to fathers and families.
The initial goal was to adopt 22 families. Three small trees decorated with envelopes that represented the families were placed around campus. Within 24 hours of placing the trees, all the families had been adopted, Doty said.
"We received 10 more families and all those families were adopted the same day," Doty said. "It blew me away."
Another group, Greeks at UC Merced, organized the toy drive to benefit Toys for Tots. Composed of eight sororities and fraternities, the group worked together to collect toys and donations, said student Daniel Flores, who coordinated the event.
"We were able to collect 107 toys and raise $350 in donations," said Flores, who added that the original donation goal was $200. The group used the money to purchase more toys to donate.
"All of this was done in a week, which is really incredible since this is a small campus," Flores said. "We're really proud and we hope this event takes place every year so we can continue to help give back to our Merced community."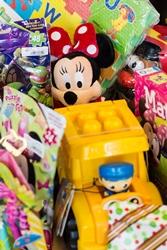 Giving festivities culminated this week with the Chancellor's Holiday Toy Drive on Wednesday. Staff and faculty members donated 162 new toys during the afternoon event. Participants also got to enjoy cider and hot chocolate, sweet treats and have their pictures taken in a photo booth.
Representatives from All Dads Matter picked up the donations Thursday to distribute to the organization's clients and expressed thanks to UC Merced.
"The UC Merced staff, faculty and students have been so generous, giving and respectful," said program Coordinator Lamar Henderson. "This has a tremendous effect on our fathers. Being a provider is an important role and for them to be able to take something home for their children to enjoy is tremendous."