Campus Honors More Than 1,200 New Grads at Commencement
More than 1,200 undergraduate and graduate students participated in UC Merced's 12th commencement on May 13 and 14, representing the university's largest class since opening in September 2005.
The new graduates bring UC Merced's alumni total to nearly 8,000 — and, for the first time, the number of alumni has surpassed the number of current students.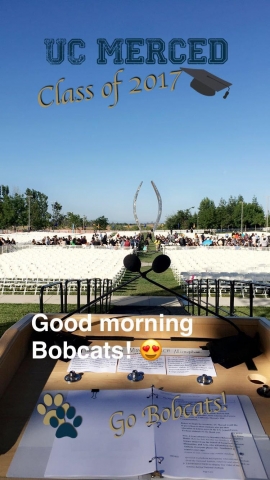 Commencement participants hailed from 42 counties in California, two other states and seven other countries — Chile, China, France, Germany, India, Mexico and Pakistan. They ranged in age from 20 to 61 years old.
Graduates and their friends and family, along with hundreds of staff and faculty volunteers, gathered in the Carol Tomlinson-Keasey Quad to hear remarks from Chancellor Dorothy Leland and guest speakers.
The May 13 ceremony for graduates from the schools of Natural Sciences and Engineering featured keynote speaker Lesley Slaton Brown, a Merced native and chief diversity officer of HP Inc., and student speaker Jocelyne Fadiga, a chemical sciences major from the Ivory Coast.
Graduates from the School of Social Sciences, Humanities and Arts were celebrated at the May 14 ceremony, which featured keynote speaker and award-winning author and journalist Héctor Tobar and student speaker and history major Havilliah "Jake" Malsbury, a Santa Cruz native.
Those who missed out on one or both ceremonies are in luck. For the first time since 2009, the university offered a live feed of its commencement ceremonies, and those videos can now be found on the UC Merced YouTube channel:
During the live broadcast of commencement ceremonies, more than 1,300 viewers from 30 countries watched the events online.
Also for the first time, Snapchat users got a behind-the-scenes peek at commencement by Rufus Bobcat. The commencement geofilter was applied to 650 snaps over the weekend, which were viewed 44,901 times and became a trending story on the channel from May 13 through 17. The #UCM2017 hashtag also trended on Twitter during the morning hours of May 13 and 14.
UC Merced "took over" the University of California Instagram account (by invitation) during the weekend, posting live video and photos from commencement.
Additionally, a photo album highlighting some of the best images from both ceremonies is available on Facebook.