Campus Set to Break Ground on Major Expansion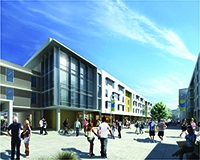 The symbolic beginning to UC Merced's next phase of growth happens Friday, Oct. 14, when the university holds a groundbreaking ceremony for the Merced 2020 Project. 
The ceremony, led by Chancellor Dorothy Leland and featuring a number of distinguished guests, begins at 1 p.m. in the Joseph Edward Gallo Recreation and Wellness Center on campus. UC Merced faculty, staff and students — along with supporters from throughout the community, region and state — are invited and encouraged to attend what will be one of the young campus's most significant milestones to date.  
Preparations are already underway for construction of the Merced 2020 Project's initial phase, with the first buildings scheduled to open in 2018. Upon completion of the full project, UC Merced will have nearly doubled its physical capacity and enabled enrollment growth to 10,000 students.
Since opening in 2005, UC Merced has broken molds and blazed new trails in research, academics and student support — and the Merced 2020 Project applies that spirit of innovation to construction. The $1.3 billion public-private partnership is unprecedented in higher education both in scope and in structure, designed to ensure the timely delivery and ongoing maintenance of new buildings. 
The start of construction comes at a time when UC Merced is experiencing rapidly increasing interest and demand. Applications to the university are growing at the fastest rate in the UC system, and the Merced 2020 Project will provide the additional space needed to ensure the campus can continue to educate the best and brightest students from the San Joaquin Valley and throughout the state. 
That growth — in student enrollment, but also in faculty and staff — will enable UC Merced to continue boosting its reputation as one of the best public schools in the nation and a vital part of the venerable UC system. At just 11 years old, UC Merced is already being recognized by the likes of U.S. News & World Report and Washington Monthly for its top-notch academics and research, support for students from underserved populations and commitment to sustainability.
Those planning to attend are encouraged to RSVP here. For information about the event, email chancellorevents@ucmerced.edu. For information about the Merced 2020 Project, visit merced2020.ucmerced.edu.