CatTracks to Bring GPS On Board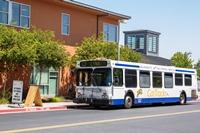 Transportation and Parking Services (TAPS) will soon launch a new tool that will make it easier for CatTracks riders to plan trips to and from campus and pinpoint buses' locations in real time as they travel along their routes throughout Merced.
The service, called CatTracker, uses the Fleetmatics global positioning system (GPS), to display a bus's location and rate of speed as it travels. Riders can use a smartphone, tablet or computer to access the tool on the CatTracks website. Buses on all CatTracks routes will be outfitted with the equipment to make tracking possible.
"We're excited to provide this service for our riders," said TAPS Director Karin Groth. "CatTracker is a great tool that will help our customers track buses, check for delays and overall manage their trips more efficiently."
CatTracker will be available on the CatTracks website and will work using a Google-powered map to display route-specific content such as static and interactive maps, bus arrival and departure times at specific stops along routes, landmarks, points of interest and real-time updates about delays or service interruptions. TAPS's Hatem Elgaili customized the GPS software to suit the needs of CatTracks riders.
"We understand that riders are trying to best manage their time, and this application can help with that," Elgaili said. "With CatTracker, you can use your smartphone to see the location, speed, bus stops and routes of the CatTracks buses. Riders can even see how many buses are running on a specific route. "
Hired by TAPS last month as a full-time administrative assistant, Elgaili was already well-versed with the department, the campus and the CatTracker project. The East Bay native attended UC Merced as an undergraduate and worked for TAPS as a student assistant. After he graduated last May, Elgaili landed a job with Via Trailways, the company that provides UC Merced's transit service. During his time at Via, the company tasked him with customizing the GPS service for CatTracks.
"I was hired to learn the capabilities and limitations of the Fleetmatics software in order to make the appropriate modifications in the system and apply it to CatTracks," he said. "The service is set up to be as user friendly as possible, and we hope that it will add a sense of security to riders' commute."
The launch of CatTracker is part of TAPS' ongoing effort to provide its customers with services they want and need and to encourage and expand upon the use of alternative transportation initiatives to travel to campus and throughout the community.
Last year, CatTracks debuted its revamped website that included enhanced features such as "pop-ups" that identified nearby places of interest such as restaurants, coffee shops, landmarks and shopping areas. The CatTracker map will have zooming capabilities and aerial imagery with transportation and street name labels for local highways, roads, railroads, and airports. Also coming soon: TAPS is preparing to launch van pooling at UC Merced. Learn more about this sustainable initiative in the next issue of Panorama.