Computational Training Expanding Through New Grants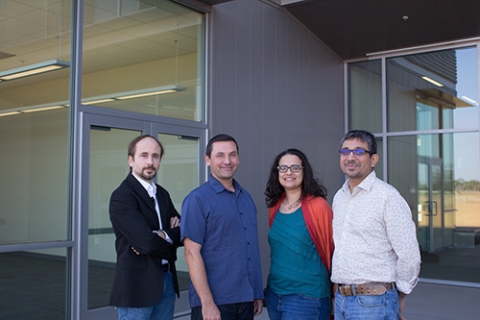 Graduate students at UC Merced will benefit from extensive new research, funding and training opportunities, thanks to two National Science Foundation (NSF) grants totaling more than $3.25 million.
Interdisciplinary groups of computational sciences researchers won two of the 30 NSF Research Traineeship (NRT) program grants the agency is giving out this year. The grants will fund 50 doctoral students and train another 100 graduate students over the course of five years.
"A big part of what attracted so many of us — graduate students and faculty alike — to UC Merced was the chance to work on innovative research questions emerging from the 'big data' revolution we find ourselves in," said applied math Professor Suzanne Sindi, who is a member of both grant groups. "Receiving this support from the NSF is confirmation that what we are doing here at UC Merced is something special."
The NRT program divides along two tracks: traineeships and Innovations in Graduate Education (IGE). The traineeships tend to be awarded to larger, more comprehensive programs and include fellowship support for graduate students. The IGE track is smaller and dedicated to piloting and refining innovative approaches to graduate education that will better prepare students in science, technology, engineering and math (STEM) fields for a full range of possible career paths.
UC Merced won one grant in each track: an Intelligent Adaptive Systems (IAS) Traineeship worth $2.9 million, and an IGE grant totaling more than $350,000.
One particular mission of both grants is to recruit, train and promote the success of underserved populations in computational sciences. The IAS Traineeship will recruit with the specific goal of increasing diversity among scientists and engineers working on intelligent adaptive systems, while the IGE's educational framework is specifically designed to increase degree completion rates for underrepresented minority and first-generation STEM graduate students in the computational sciences and prepare them for jobs in academia, industry and national labs.
"That UC Merced has been awarded not one but two of these grants speaks to the high caliber of our faculty and the promise of their creative, innovative ideas for expanding and improving graduate training," Provost and Executive Vice Chancellor Tom Peterson said.
Cognitive and Information Sciences professors Ramesh Balasubramaniam and Christopher Kello, Electrical Engineering and Computer Sciences Professor Stefano Carpin and Sindi believe the IAS Traineeship will help UC Merced graduate students develop the conceptual and technical abilities needed to deal with large, complex systems and datasets.
Six graduate groups are involved in the IAS program: Cognitive and Information Sciences, Applied Math, Electrical Engineering and Computer Sciences, Mechanical Engineering, Quantitative and Systems Biology and Physics.
"This is a true interdisciplinary effort," Balasubramaniam said. "IAS will allow students to delve more deeply into principles of learning and adaptation as they manifest across a wider range of biological, human and technological systems. Researchers working in mathematics, physics, biology, cognitive science, computer science and engineering — who all work on common problems of adaptation, learning, regulation and prediction — need a common basis for exchanging hypotheses and theories, and we hope this program will address that need."
Programming for IAS will include an intensive computational boot camp, custom courses, lab rotations, workshops for communication skills development, and industry networking opportunities. Participants will also be paired with industry mentors and develop community outreach partnerships.
The grants and the growing recognition for UC Merced's programs is a source of pride for campus friends and supporters, as well as campus community members.
"UC Merced is once again proving to be a pioneer among research institutions," Rep. Jim Costa (D-Merced) said. "This funding will provide Ph.D. students valuable opportunities to learn and develop skills in STEM research. I look forward to the positive outcomes and impact that the NSF funding award will have in our San Joaquin Valley, state, nation and world."
The IGE grant is led by Graduate Dean and Vice Provost Marjorie Zatz, School of Natural Sciences Dean Juan Meza, and cognitive science Professor Michael Spivey, who will pilot an approach to graduate education called the Interdisciplinary Computational Graduate Education Program (ICGEP). A team of seven additional faculty members from across the campus will help implement the innovative program. 
Over three years, ICGEP will foster interdisciplinary computational and data analytic skills through dedicated workshops and instructional modules leading to team-based research projects. Participating doctoral students will attend professional development seminars and be paired with multiple mentors from inside and outside academia — all elements that should help to reduce attrition.
"I know I speak for everyone involved when I say that we are honored that the NSF has recognized and affirmed UC Merced's commitment to increasing diversity and interdisciplinarity in the computational sciences," Zatz said. "These grants will have a transformative effect on graduate education at our campus, allowing us to create, test and improve approaches to increasing diversity in the computational sciences — and producing more competitive Ph.D. students — for years to come."
This year's NRT grant awardees include fellow UC campuses at Berkeley, Irvine, Riverside and Santa Barbara. UC Merced is the only UC campus and one of only two universities overall to be awarded two of the grants.
The NRT grants are the most recent awards UC Merced has received to help reduce educational disparities at the graduate and undergraduate level. These awards, together with the NASA-funded MACES center, the NSF CREST Center for Cellular and Biomedical Machines and the National Institutes of Health's Bridges to the Doctorate Grant account for more than $13 million in support dedicated to the recruitment and retention of underrepresented minority students at UC Merced over the past 16 months.