Convocations Celebrate Past Year, Look to Future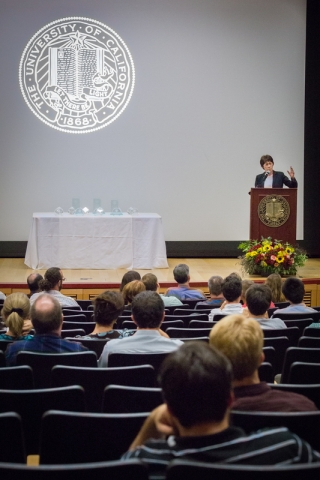 Chancellor Dorothy Leland kicked off UC Merced's 2016 fall semester by delivering her "State of the University" address at two convocation ceremonies last week.
At both the faculty and staff events, Leland recapped the highlights of the 2015-16 academic year, celebrated faculty and staff achievements and looked ahead to the coming year.
The ceremonies, on Aug. 17 and 19, marked the campus's second consecutive year of hosting two distinct events for faculty and staff members at the start of the new academic year.
In addition to providing a recap of some of the campus's major initiatives — including last spring's Visioning Summits and developments involving the 2020 Project — Leland thanked each group for its contributions and service.
"We serve the demographic future of California, and we have been doing it very, very well," Leland said. "What you do … is transforming lives on a daily basis and, for that, you should be proud."
Research, Awards Highlights
During Faculty Convocation, both Leland and Provost and Executive Vice Chancellor Tom Peterson lauded faculty members for their research accomplishments, including:
the campus earning an R2 ranking for "higher research activity" from the distinguished Carnegie Classification of Institutions of Higher Learning, becoming by far the youngest institution to appear on the list;
UC Merced being one of three University of California campuses to earn recognition from the Carnegie Foundation for Community Engagement; and
a host of grants, commendations and awards received by faculty members from agencies including NASA, the National Institutes of Health and the National Science Foundation (NSF).
"The faculty on this campus seem to have NSF's number; NSF certainly has ours," said Peterson, referencing the two dozen new NSF awards earned in the past year. "I'm pretty sure we are on their speed-dial."
Leland also mentioned forthcoming plans to establish a task force to consider organizational and governance changes in the schools, and an another effort to address operational efficiencies, allowing faculty members to focus on research and teaching.
Staff Convocation
During the Staff Convocation, Leland told the audience she will continue to use a variety of communication tools, including webcasts and town hall meetings, to keep people informed of important campus updates and provide ways to ask questions and provide feedback. The chancellor also gave a shout-out to remote staff members who made the trip to campus from satellite locations.
Vice Chancellor for Student Affairs Charles Nies spoke briefly about the incoming class of students. Although official numbers will not be available until after the campus conducts its annual census in September, this year UC Merced will welcome its highest percentage of Merced County students, yet another measure of the university's successful outreach efforts in local communities.
Staff Assembly President Pam Taylor provided a short overview of Staff Assembly, introduced its 2016-17 executive board and encouraged staff members to play a role shaping in the campus's future by getting involved with the group.
Both convocations included segments that welcomed new faculty and staff members in attendance and honored various award recipients. Faculty Convocation included recognition of continuing lecturer awards and faculty members who earned advancement, promotion and/or tenure in 2015-2016. Staff Convocation included the announcement and presentation of 2016 Staff Excellence Awards to five staff members.
Coming Challenges
While the tone of the events was celebratory, Leland acknowledged the campus will face growing pains as it embarks on its next phase of development and readies for expansion.
"UC Merced is 11 years old," Leland said. "From a biological standpoint, the 11-year-old 'tween' is all about change. We are in the middle of an important growth and development stage that is sometimes awkward, sometimes challenging, sometimes frustrating.
"But if we focus daily on what we value most, I have no doubt we will succeed."