Event Celebrates Generosity of Donors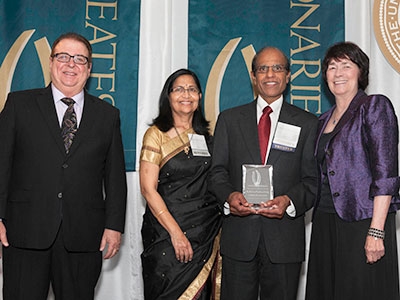 Campus friends and supporters were recognized for their charitable spirit at UC Merced's third annual Celebration of Philanthropic Leaders event, held on campus March 25.
During a reception on the fourth floor of the east wing of the Leo and Dottie Kolligian Library, guests witnessed the progress taking place as part of the Merced 2020 Project.
"This young campus has thrived — not just survived — during some very difficult times, and we couldn't have done it without your support," Chancellor Dorothy Leland said. "I am here to celebrate with you some of the accomplishments you've made possible."
Benefactors honored for their longtime generosity to UC Merced included:
UC Merced Foundation Trustee Dr. Krishna Thondapu and the Thondapu family have supported UC Merced since its earliest days. The family established the Thondapu Family Endowed Chair in Bioengineering about 15 years ago. This gift supports a critical research area on campus and inspired additional support from other major donors even before the campus opened its doors. 
Westamerica Bank was recognized for its contributions to establish an endowed chair in economics. The chair was one of the first established at UC Merced and has allowed distinguished faculty members the financial field to excel in their scholarly endeavors. Regional Vice President and Regional Marketing Manager Robert Baker and Assistant Vice President and Business Banking Officer Dauna Goza accepted on behalf of Westamerica.
Hewlett Packard was honored as one of the campus's first corporate sponsors. The organization has supported the campus since before it opened and continues to bolster campus initiatives including the Graduate Dean's Advisory Council on Diversity and the National Science Foundation Initiative. Chief Diversity Officer for Hewlett Packard Lesley Slaton Brown accepted the award.
Leland also highlighted Giving Tuesday, a 24-hour fundraising effort that brought in more than $700,000, surpassing the $500,000 goal. Thirteen undergraduate scholarships and one graduate fellowship were supported through the initiative, now in its third year. The number of individual gifts doubled over the previous year and several donors gave multiple times.
"I am very proud of that fact that many of you in this room, despite the fact that you had stepped up in other ways, helped us with our Giving Tuesday campaign," Leland said. "Our alums and our students also stepped up in a big way."
She referred to the extraordinary generosity of alumni such as management and business economics major Christopher Bernal, the first student to establish an endowed scholarship to support other students, and Keith Ellis, '12, Brandon Ruscoe, '09, Chris Abrescy, '09, and Daniel Lobato, '13, who established endowed scholarships during Giving Tuesday.
A highlight of the evening was a tribute to longtime supporter and enthusiastic friend of the campus Elizabeth Wallace, who died in October.
The Yablokoff-Wallace Dining Center, Elizabeth's Garden and the Wallace-Dutra Amphitheater all bear the Wallace name and have played significant roles in building a sense of community.
"Elizabeth Wallace was one of UC Merced's greatest champions," Vice Chancellor for Development and Alumni Relations Kyle Hoffman said. "Her involvement with our campus from the very beginning has made UC Merced a greater place for all."
Wallace's husband, Bud, daughter, Lillian, son-in-law Mark, and granddaughter, Allison, attended the event.
At last year's event, the campus unveiled its official alma mater, "My Merced," written by award-winning composer Jimmy Dunne. To carry on the tradition this year, UC Merced alumna Brooklyn Edwards, '09, performed the song for guests.