Friends, Colleagues Honor Grad Student Jennifer Mendiola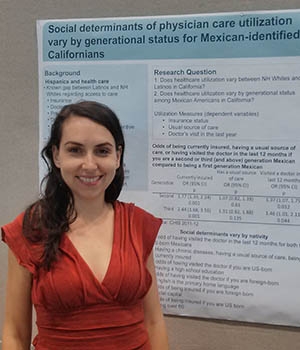 UC Merced is mourning the loss of graduate student Jennifer Mendiola, who was among 36 people who died in the Ghost Ship warehouse fire in Oakland on Dec. 2. She was 35.
Colleagues described Mendiola as a passionate and determined scientist who possessed an inquisitive mind and a collaborative spirit. She was a fifth-year health psychology graduate student in the School of Social Sciences, Humanities and Arts and was considered a rising star in her field.
Mendiola, who grew up in Sacramento, studied factors that influence risk behaviors and poor health, including one's close relationships and emotional experiences. She was in the process of finalizing her dissertation proposal for defense in January.
"She was incredibly kind, empathetic and thoughtful of others," Professor Anna Song said. "She loved traveling, good food and music of all kinds."
In the past year, Mendiola had two empirical papers published in Preventive Medicine Reports — as first author — and the Journal of Behavioral Medicine. A year ago this month, she co-authored an op-ed in the Los Angeles Times with Professor Mariaelena Gonzalez and fellow doctoral candidate Van Do-Reynoso about the risks confronting Latinos who are reluctant to get flu shots.
"I enjoyed working with her," Gonzalez said. "I found that she was always curious and willing to take risks. She pushed herself to learn new things, and was very excited when we published the peer-review article. She was even more excited about the op-ed."
Mendiola was a finalist in the 2016 and 2015 University of California GradSLAM! competitions. During the 2015 competition, she delivered a three-minute presentation about the daily effects of social relationships.
Mendiola earned her bachelor's degree from San Francisco State University and master's degree from California State University, Sacramento. In 2012, she came to UC Merced as a doctoral student and worked as a teaching assistant for professors Song, Matthew Zawadzki and others.
On Dec. 12, campus community members gathered in front of Kolligian Library to honor Mendiola. The memorial began with a moment of silence and wreath placement near the oak tree. Several people in attendance shared their memories of her, including lecturer Derek Sollberger.
"She was such an amazing person," he said as he recalled Mendiola's varied interests and boundless energy. "She'd be running a 5K on a Saturday, ballroom dancing on a Sunday and making travel plans on a Monday."
Mendiola is the third UC Merced community member to die in the past month. As such, campus officials remind those who are struggling that counseling services are available. Students can contact Counseling and Psychological Services 24 hours a day at 209-228-4266 to speak with a counselor over the phone. Faculty and staff members can access INSIGHT, the employee assistance program.