Get Moving to a Healthier You with UC Wellness Programs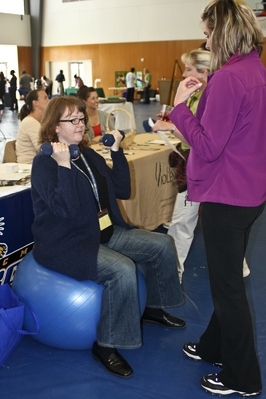 It's February and your resolve to lose weight, exercise more or just generally improve your health might already be waning.
UC Living Well, the university's wellness initiative, is here to help you get on track. Wellness is a lifelong pursuit, and we all need a little encouragement from time to time. UC Living Well offers that push through programs, activities and resources that support the health and well-being of UC faculty and staff members and retirees.
Start now by visiting the new UC Living Well website to learn more about the program, which includes:
campus and health system wellness activities;
programs and support from UC's benefits providers;
an incentive program administered by Optum wellness, open to eligible faculty, staff and retirees; and
wellness coaching online or by phone, also offered by Optum wellness.
Employees and retirees enrolled in UC-sponsored group medical plans, including Kaiser members, can participate in the incentive program and earn points toward a $75 Visa card incentive award. You can earn points by taking part in a variety of activities, some new for 2015:
campus and health system wellness activities;
the Total Health Profile;
wellness coaching online or by phone;
preventive exams and screenings; and
disease management programs, such as Health Net Blue & Gold's Omada Prevent Diabetes Program or Kaiser's online coaching program
The incentive program provided by Optum includes access to the Optum wellness portal. For 2015, spouses and domestic partners are not eligible for wellness benefits and/or the incentive.
Everyone can participate in on-site campus and health system wellness programs, but eligibility varies by campus; contact your location's wellness coordinator for details.
You can learn more about the UC Living Well program on its new website.