GirlCode Workshop Aims to Address STEM Gender Gap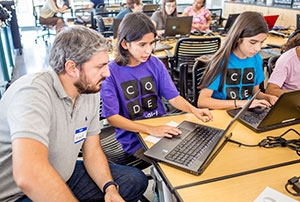 Women make up about half of the nation's college-educated workforce, but in the fields of science and engineering, that drops to less than 30 percent.
UC Merced's STEM Resource Center is working to change that discrepancy by addressing the gender gap head on — and at early ages. Last month, the center hosted GirlCode, a four-day workshop focused on inspiring girls from seventh to 12th grade to learn computer coding.
"This is where the future is," said Petia Gueorguieva, coordinator of the STEM Resource Center. "Regardless of the field, computer scientists will be needed everywhere. If we spark these girls' interest early, they have a better chance at pursuing degrees and careers in computer science."
Margo Souza, former president and CEO of Turlock's Circle H Dairy, is no stranger to gender disparities in the workplace.
"When I ran the dairy, they told me that I couldn't't do it," she said.
Souza, a longtime UC Merced supporter, shared some of the secrets to her success with the GirlCode participants during the workshop. Her message: "Don't let anybody tell you that you can't do something."
"The girls are being left behind," Souza said. "They get discouraged, and not encouraged. They can't be computer science majors or engineers unless they get the preparation ahead of time."
After a conversation with Souza at an event last spring, Gueorguieva began collaborating with Souza and two co-sponsoring groups — UC Merced's Blum Center for Developing Economies, and the science literacy nonprofit BEAT (Biology, Engineering, Agriculture, Technology), which was started by two UC Merced alumni.
Together, they came up with GirlCode, and the first workshop was offered on campus the last week of July. In order to attend the free program, girls needed a minimum 3.5 GPA and an interest in computer science.
Event Draws Students From Around the Region
Twenty girls from Merced, Atwater, Livingston, Ceres and Fresno high schools learned basic computer coding, taught by Angelo Kyrilov, a graduate student in the campus's Electrical Engineering and Computer Science program.
Kyrilov, who has taught similar workshops to local high school teachers through the campus's CalTeach program, introduced the girls to Web development with HTML, CSS and JavaScript. Over the course of four days, each student designed and published her own website. In addition, the girls learned about Twitter's Bootstrap framework, which allowed them to create modern, responsive and interactive websites.
"The goal was to show the girls what's possible and get them excited about what they're doing," he said. "Our approach was to expose them to as many modern Web development tools as possible and encourage them to explore the topics on their own. The girls have experienced remarkable growth in their skills."
Kyrilov's graduate research is positioned at the intersection of artificial intelligence and computer science education. From his research and teaching experiences, he has seen firsthand evidence of the gender gap, and that's why he believes in the importance of GirlCode.
"One of the biggest research questions in our field is why females are so heavily underrepresented," he said.
Buhach Colony High School student Lizzy Lourenco took the workshop as a way to expand her horizons. The ninth-grader was introduced to coding in a math class, but considered herself a beginner before completing GirlCode.
"It's interesting how it all builds together," she said. "Once you finally get it, it is like, 'Yes!'"
Lourenco is interested in studying chemical and electrical engineering in college and recognizes how the workshop gives her an advantage over her peers who haven't learned similar skills.
"We'll be using this technology in future jobs," she said. "For instance, as a civil engineer, you have to use computer coding in order to do your job."
The STEM Resource Center is working to secure funding to offer more programs, as well as a follow-up GirlCode workshop.
"The earlier we start, the better the outcome, and we will have more well-prepared students coming to our campus and more highly trained workers going out into the world," Gueorguieva said.