Image Library Displays New Look, Enhanced Features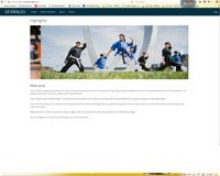 Users of the UC Merced Image Library might have noticed the website is sporting a new look.
The Image Library, which is managed by University Communications and contains more than 5,000 professional, high-quality photos and graphics, recently underwent an upgrade. Among the changes:
refreshed user interface;
a new home page that displays a launching-off page to the Assets Library and Brand Guidelines, which offers guidance on consistent use of the university's logos, colors and other graphic elements;
ability to preview images at 1280 pixels, up from the previous 550 pixels;
ability for users to download assets from thumbnails instead of clicking into the assets for a full preview;
addition of three new thumbnail previews (small, medium and list views);
sorting options for assets;
faceted search on the left panel to easily discover and find the most popular assets; and
inclusion of search tips in the search bar.
Campus community members with valid UCMNetIDs can log in to the Image Library and download photos and graphics for use in university-related publications, communications and websites.
For more information, email University Communications.