Land Gift Helps Campus Break Fundraising Record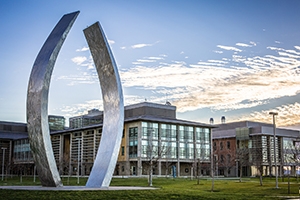 UC Merced has broken its own fundraising record, bringing in more than $20.8 million during the 2015-16 fiscal year — a more than 300 percent increase over last year.
"This is a record-breaking year," Vice Chancellor for Development and Alumni Relations Kyle Hoffman said. "The amount of philanthropic support we've received shows significant progress in multiple areas, including alumni giving, annual giving, corporate and foundation support, estate giving, and developed and undeveloped real estate. But I am most proud that this is the result of collaborative efforts all across the campus. We are extremely grateful."
This year's success was in large part thanks to a gift of land near campus worth nearly $10 million. The donation of nearly 40 acres in the Bellevue Ranch area is the second-largest gift the campus has received. The largest was the original 7,000 acres, valued at $12 million, which was donated in 2001 by the David and Lucile Packard Foundation. That gift enabled the campus to locate in Merced and ensured the protection of more than 6,000 acres of sensitive land.
"This is an incredible and timely gift, given that we are getting ready to start the 2020 Project, which will expand the UC Merced campus to accommodate 10,000 students in the next decade," Chancellor Dorothy Leland said. "We are exploring the best future uses of this land, including options such as graduate student housing and child care facilities for faculty, staff and students."
Other successful fundraising efforts this year included Giving Tuesday, the annual day of giving that raised more than $316,000 in gifts and matching funds for undergraduate student scholarship support, greatly enhanced by a three-to-one match supported by longtime campus friends Foster Poultry Farms and the Wells Fargo Foundation.
The campus also received significant support from an estate gift to provide scholarships and fellowships to undergraduate and graduate students in the fields of economics or business.
"Such gifts are critical in helping the campus support our students," Hoffman said. "Many students are overwhelmingly thankful for the support they receive because, in many cases, they might see college as being out of reach without that assistance."
The land donor wishes to remain anonymous, but said he recognized the value UC Merced brings to the San Joaquin Valley and wanted to contribute to the university's success.
"I wanted to do what I could to support UC Merced's mission, and given the proximity of the land to the campus, this seemed to make the most sense," he said.