Local Agencies Train at UC Merced to Save Lives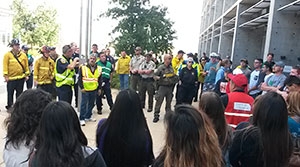 Last Saturday, the Social Sciences and Management Building was the stage for the largest multi-agency violent incident training ever coordinated by the Merced County Office of Emergency Services. 
More than 10 agencies, including the UC Merced Police Department, the Merced County Sheriff's Office, the Atwater and Merced police departments, California Highway Patrol, Merced County and city fire departments, Riggs Ambulance Service, Merced College, the California Department of Forestry and Fire Protection, California State Parks and the Merced County Probation Department, were on hand for the morning's training session.
The goal of the exercise was for firefighters, paramedics and law enforcement personnel to train together and get victims out safely, and overall it was a huge success.
"We're building on what we've been working on for three years," said Jeremy Rahn, coordinator for the Merced County Office of Emergency Services. "As a result, we are well prepared to do this in the future."
Students from the Atwater High School drama class, Sheriff's Office and Merced Police Explorers and UC Merced played victims and witnesses during the exercise, making the scenario as real as possible.
The campus's mass notification systems and emergency communications equipment were also successfully tested during the training exercise.
"We welcome the opportunity to partner with and learn from our local and county response agencies," Assistant Vice Chancellor for Campus and Public Safety and Chief of Police Albert Vasquez said. "These training exercises prepare us for possible scenarios and help us re-evaluate our protocols."