May Session Launched Broader Campus Involvement in UCPath Implementation
Representatives from an array of campus units gathered May 2 for an overview and demonstration of several key components of the UCPath system, which is planned to go live at UC Merced in July 2014.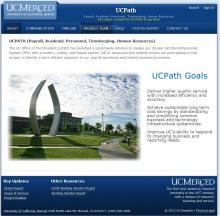 John Blake from the UCPath Central Project Management Office led the session, which targeted administrative and management services officer (AOs and MSO) personnel. Attendees previewed the system's portal -- a one-stop, self-service shop for human resources and financial transactions. The portal is equipped with an Automated Workflow Engine (AWE) that enables real-time electronic approval capabilities that will increase processing speed and eliminate paper use.
Attendees also used a case-management tool that will be used by the new UCPath Shared Service Center in Riverside to interact with all campus employees for addressing standard questions and concerns.
An example: A new staff member who wants a holiday schedule can initiate a request online with the click of a button. The employee will have access to a drop-down menu of options to categorize a question, followed by a text box where additional information can be entered.
Once the question is submitted, it becomes an open case at the UCPath Center, where customer service personnel can electronically attach a holiday schedule in document form, send a link to posted information or type a message. Each step is electronically tracked, creating a history of how each case is initiated, handled and concluded.
The presentation provided attendees with insight that illustrated the extensive planning, work and required participation that will be needed from campus departments to successfully set up and implement the system's approval structure for ideal efficiency.
For now, the tentative plan of action involves preliminary discussion and recommendations made by UC Merced's Controls and Advisory Group, which will be shared at follow-up meetings for review and feedback by those who attended the May 2 presentation. For additional developments or inquiries, please visit the campus's UCPath site.