Musical Sheds Light on Lives of Undocumented Youth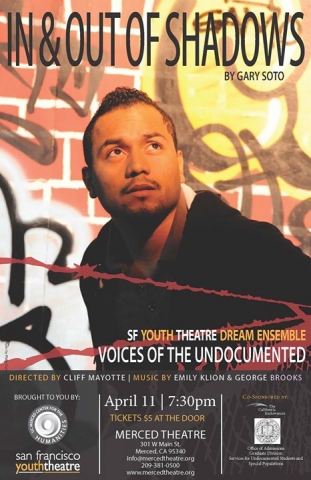 "In and Out of Shadows," a musical by famed Chicano writer and Fresno native Gary Soto, is coming to Merced for a special one-night-only show.
Performed by the San Francisco Youth Theatre DREAM ensemble, the show begins at 7:30 p.m. April 11 at Merced Theatre's Art Kamangar Center, 301 W. Main St. Tickets are $5 at the door.
"Gary Soto is wildly popular among Latino youth, and this musical shows why," said Alex Delgadillo, associate director in charge of services for undocumented students and special populations through UC Merced's Calvin E. Bright Success Center. "He has a knack for understanding young-adult audiences and accurately reflecting their experiences and feelings in his works."
The play is the final event of The World Upside Down Conference presented by the UC Merced Center for the Humanities. The conference explores all the ways in which people have imagined and experienced upside-down worlds.
The show is both funny and serious in its depiction of undocumented youth from the Bay Area — DREAMers preparing for a conference about the law that allows eligible students to attend college at in-state tuition rates. Many of the families represented in the show have mixed status — undocumented parents whose children were born in the U.S., for example — and live in constant fear of family separation.
"We all know that tomorrow, any one of us could have our world turned upside down due to circumstances beyond our control," said Christina Lux, assistant director of the humanities center. "This performance challenges us to acknowledge the amazing resilience and great promise of our nation's youth who are fighting to keep their families together and build for the future."
The conference, on April 10 and 11, will feature various talks and research presentations. Author and human rights activist Marjorie Agosín will deliver the keynote address.
"In and Out of Shadows" was brought to Merced with support from the Center for the Humanities, Arts UC Merced Presents, the California Endowment, UC Merced's Graduate Division, and the campus's offices of admissions and services for undocumented students and special populations.
Students attending Bobcat Day — UC Merced's annual open house for newly admitted students — on April 11 are invited to attend the performance with their families. A limited number of free tickets are also available to members of the general public and can be picked up at Building Healthy Communities, 658 W. Main St., Merced. For information, call Isaí Palma at 209-383-4242.
"'In and Out of Shadows'" is an entertaining musical that shows the importance of access to higher education, which is one of UC Merced's core commitments," said Susan Amussen, director of the center. "This play is one more way of demonstrating that commitment."