New Director Looks to Build on Violence Prevention Efforts
UC Merced was ahead of the curve in 2009, when it created the Violence Prevention Program to combat sexual violence, dating and domestic violence, and stalking on campus and in the community just four years after opening its doors to students.
The program later became the Campus Advocacy, Resources and Education (CARE) Office, and its new director, Yesenia Curiel, hopes to complement and enhance what has become a substantial track record of success.
"When I saw this position, I thought this would be a great opportunity for me to be able to bring together my background and experience working with young people," she said.
The CARE Office helps position the campus as a leader in its approach to sexual violence prevention through programs like Step Up to Safety, a summer orientation program to involve parents in the conversation about safety on campus. The office works diligently to educate students, staff and faculty, and boasts a 99 percent participation rate in a new mandatory student sexual violence prevention training offered during the first two weeks of each semester.
Curiel, who joined the campus in July, started performing rape-prevention education with the Santa Barbara Rape Crisis Center as a student in 2001, in collaboration with the UC Santa Barbara Women's Center. After earning her bachelor's degree in sociology, she worked at a teen center for a year, completing more than 500 clinical hours and further honing her prevention and crisis intervention skills. She worked a total of 14 years with the rape crisis center, including nine years as its program director.
After receiving a master's degree in clinical psychology from Antioch University in Santa Barbara, Curiel spent 1 1/2 years providing mental health interventions and resources to people with severe and persistent mental illness for Santa Barbara County's Behavioral Wellness Department.
Now, Curiel is building on the work of founding director Kari Mansager, leading education and sexual violence prevention at UC Merced. With the beginning of the fall semester, she's familiarizing herself with the campus community.
"My goal is to get to know the population we serve — not only students, but faculty and staff as well — and see what the needs are," Curiel said. "I think that's the key."
She is also focusing on the CARE Office's branding — from the presentations they give to promoting its new location, in Room 107 of the Kolligian Library.
"We're kind of hidden away, so it's important to make sure we are more visible," Curiel said. "It's important to ensure people think of CARE when they are experiencing or witnessing a potential situation and can connect with us immediately."
Campus Advocate a Resource for Survivors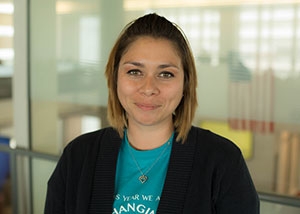 Curiel isn't the only new face in the CARE Office.
Earlier this spring, UC Merced alumna Valara Villanueva became the new campus advocate, contracted through Merced's Valley Crisis Center. She provides free advocacy services — including crisis counseling, emergency transportation, assistance with restraining orders and confidential support — to the entire campus community.
Villanueva graduated from UC Merced in 2015 with a degree in psychology. She serves on UC Merced's CARE advisory board and previously provided prevention education and advocacy services at Merced College.
"I think that's going to make our role a little easier, because she has fresh connections," Curiel said. "The fact that Val was a student, she's able to connect with the various groups we have on campus."
For more information, visit the CARE Office website or contact 209-228-4147. To contact the UC Merced campus advocate, call 209-386-2051.