Photography Exhibit Captures Movements in the '60s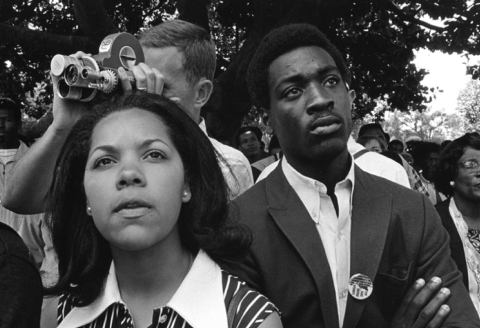 Black Power * Flower Power, an acclaimed photography exhibit that captures the hippie culture in San Francisco and the African-American liberation movement in Oakland, will be shown at the UC Merced Art Gallery.
The images, taken by Pirkle Jones and Ruth-Marion Baruch, will be on display from Nov. 4 to March 4.
Black Power * Flower Power is an internationally traveling show, and the UC Merced Art Gallery is the exclusive venue in the Central Valley to showcase a selection of the photos. The UC Merced Art Gallery is at the north end of the Social Sciences and Management Building (SSM) in Room 106. It is open to the public from 11:30 a.m. to 2:30 p.m., Monday through Thursday. More information about the exhibit is available online (www.facebook.com/UCMArtGallery).
A reception with the student curators will be held from 4 to 6 p.m. on Nov. 21.
The exhibit is made possible by generous support from the Pirkle Jones Foundation.
Curated by students in UC Merced Professor ShiPu Wang's museum studies course, the selections illustrate ideas of community and solidarity that emerged from the two defining movements in the 1960s.
Jones' and Baruch's images captured the blossoming hippie culture in San Francisco's Haight-Ashbury amid the "Summer of Love" in 1967, and the African-American liberation movement seeking justice and an end to systemic racism in the U.S., led by the Black Panthers in Oakland during the summer and autumn of 1968.
Both photographers have a connection to the Central Valley: they married in 1949 at the Yosemite home of famed photographer Ansel Adams. Baruch and Jones met as students attending America's first fine arts photography program, started by Adams in 1946, at what is now the San Francisco Fine Arts Institute.
Jones came from a working-class family and grew up in Louisiana and Indiana. His interest in photography began in high school and his early work appeared in "U.S. Camera Annual" and "The American Annual of Photography."
Baruch was born in Berlin, the daughter of a prominent neurosurgeon and wealthy socialite. Her family emigrated from Germany to New York in 1927. Baruch graduated from the University of Missouri with degrees in English and journalism, and earned a master's at Ohio University with a thesis on photographer Edward Weston.
Photographs by Baruch and Jones in Black Power * Flower Power have received critical acclaim as they have been exhibited around the country and the world since 1968. Holland Cotter, art critic of The New York Times, commented that the photographers' work "... caught the visionary street-smart zeal of a grass-roots political movement when it was young, hopeful, and strong. With luck, these pictures ... will help pass that energy on to a new generation."