Professor's Lighting Device Earning Campus Its Fourth U.S. Patent
Professor Roland Winston knows a jellyfish that can help people see more clearly.
But it's not the kind found in the ocean. It's one that's about to earn Winston and UC Merced a U.S. patent, and is the solution to a problem that vexed many famous scientists.
"Perfect imaging has been a desired goal of optics since the days of Galileo, Newton and Descartes," Winston wrote in his Optics Letters paper announcing the invention.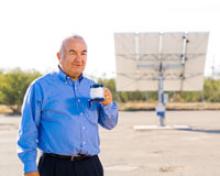 Optical systems are subject to aberrations caused by lens imperfections that distort images seen through cameras, telescopes, microscopes and other viewing devices.
The jellyfish, nicknamed because of its shape, is an example of aplanatic optics – devices designed to reduce or eliminate aberrations such as glare, blur and other issues. It's a multiple-surface lens Winston designed that uses a series of mirrors to focus LED light more tightly than has been done before, resulting in a brighter beam.
A Southern California company is negotiating a license to use the lens in architectural applications. But the jellyfish could have many other uses, too, such as creating glare-free automotive lighting or illuminating stages in live theaters without the light spilling out into audiences.
Winston said it's likely LEDs will replace traditional lighting because they are more energy and cost efficient. They last much longer and use far less electricity.
The jellyfish is actually a secondary use of a system invented for solar-energy collection – another of Winston's research areas – and is one of many ideas developed through a multi-year grant of more than $1 million from a European solar energy company.
"This is just one of the nice things that came from that grant," Winston said.
David Cepoi, intellectual property and licensing officer for UC Merced's Office of Technology Transfer, anticipates the U.S. patent being issued in January, and the licensing agreement to be finalized in early 2013. The jellyfish patent will be UC Merced's fourth issued in the U.S., Cepoi said.
The others belong to professors Matt Meyer, who designed a method for increasing stereoselectivity in stereoselective reactions; Jay Sharping, who developed a short-pulse fiber-optical parametric oscillator; and Winston, who came up with a heat-pipe transfer for a high-temperature, non-tracking external solar-thermal concentrating collector.
UC Merced also has more than 35 other patents submitted for review and many more ideas being developed through its groundbreaking research.
The jellyfish is just one of many active patent applications for Winston, the director of UC Solar, a distinguished professor in the schools of Natural Sciences and Engineering and the inventor of nonimaging optics.  
Australia recently awarded him a patent for another lens that brings technology used in space down to Earth.
In developing ultra-high-efficiency solar cells, researchers Sarah Kurtz and Jerry Olson of the National Renewable Energy Laboratory combined materials with a variety of light-absorbing properties "like the layers of a cake," Winston said, "to absorb almost the whole solar spectrum." The scientists shared the prestigious $1 million Dan David prize, and Kurtz donated her share to UC Merced for student fellowships.
Their multi-junction cells were developed for use in space – a situation where cost is less important than efficiency. Using these expensive cells on Earth requires high levels of concentration to produce more electric power from each cell.
Winston examined the concept with cost as the primary driver, and wound up combining a nonimaging optic piece similar to a glass cone with a Fresnel lens. The addition turns the low-cost, low-concentration Fresnel lens into a high-powered system.
They have many applications, including generating electricity in utility plants.
Australia was only one country considering Winston's patent application for that invention, but now that it has been issued, the hope is all the other countries – including the U.S. – will follow suit. If that happens, the UC could collect licensing fees from others who have used Winston's technology and share it with Winston.