Purchase Positions Campus for Total Renewable Energy Use
UC Merced will likely be 100 percent renewably powered by the end of 2016.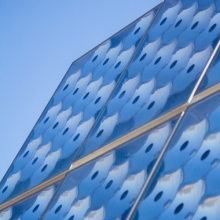 The University of California is making the largest solar energy purchase by any U.S. higher education institution to help power its campuses and medical centers more sustainably, buying 80 megawatts of power from two solar fields near Fresno.
That purchase will bring the campus's power usage to 75 percent renewable energy, and with two planned projects —rooftop solar-energy systems on campus buildings and an expansion of the campus solar farm — UC Merced would be the only university in the country to get 100 percent of its energy from renewable sources.
The solar purchase once again places UC Merced and the UC system at the forefront of sustainability among university campuses and emphasizes UC Merced's commitment to leaving as small an environmental footprint as possible. 
"As a campus, we are constantly looking for ways to exceed expectations and sustainability standards," Assistant Vice Chancellor of Strategic Facilities Planning Graeme Mitchell said. "We employ new and innovative ways to do everything, from planning and construction to everyday operations."
Though 20 megawatts of the new purchase are dedicated to UC Davis, the remaining 60 megawatts will be shared among five campuses that comprise the year-old Wholesale Energy Governing Board — Merced, Irvine, San Diego, Santa Cruz and San Francisco. Where the board does buy power from other sources, it is pursuing purchasing renewable, green energy from solar, wind and hydroelectric sources.
The new solar project will fulfill 60 percent of the campus's current power needs by the end of 2016, and UC Merced's own 1 megawatt solar farm provides another 15 percent.
The campus's rooftop-solar-system project, which will put solar units on up to eight campus buildings in the coming year, will provide about 10 percent more power. If the solar farm can be expanded as sustainability leaders hope, the campus could have another 3 megawatts, bringing it to 100 percent renewable power.
UC Merced used about 16.2 million kilowatt hours of energy in 2013, Mitchell said. As the campus grows, its needs will increase as well. Mitchell estimated the campus will consume about 41 million kilowatt hours' worth of energy if it expands as much as is planned by 2020.
"We clearly cannot sit still and think we're going to reach our Triple Zero pledges (to energy, landfill and greenhouse gas neutrality by 2020)," Mitchell said. "We have to continue to be forward looking."
UC President Janet Napolitano called for the system to be the first in the country to achieve carbon neutrality by 2025, in part by re-examining the energy sources powering UC's 10 campuses and five medical centers.
Mitchell said being 100 percent renewably powered puts UC Merced well on its way to meeting that goal.
Construction on the solar fields — which have undergone a full environmental review and been approved by Fresno County — is expected to wrap up in late 2016, and the projects are scheduled to come online by the end of 2016, according to the Office of the President.
"By investing in the development of renewable energy sources like these, UC is doing its part to increase the supply of green energy available for use across California," Napolitano said.