A Record 22,632 Students Seek Admission to UC Merced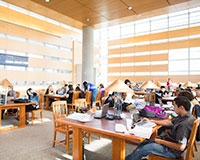 Demand for a UC Merced education remains high, with 22,632 applicants competing for admission for 2,100 undergraduate seats in Fall 2016, an increase of 13.5 percent over last year's total.
The rate of growth is the highest among all campuses in the University of California system for the second consecutive year and more than double the systemwide growth rate of 6.4 percent.
"We are excited to continue to witness record interest from those looking to attend our vibrant campus," Chancellor Dorothy Leland said. "This sustained interest is the momentum we need as we move toward accomplishing our goals of the 2020 Project."
In November, the UC Board of Regents approved the essential provisions of the 2020 Project, which will double the physical capacity of campus by 2020 and allow the campus to expand enrollment to 10,000 students within five to seven years.
Data released Jan. 11 by the UC Office of the President, shows that UC Merced received 19,683 applications from prospective first-year students, a 12 percent increase from last year and a nearly 30 percent increase from 2014.
UC Merced also received 2,949 transfer student applications for Fall 2016, an increase of 27 percent compared with Fall 2015.
According to Associate Vice Chancellor for Enrollment Management Jill Orcutt, the campus's enrollment target for the Fall 2016 undergraduate class is approximately 2,000. Total campus enrollment is currently about 6,700 students.
"As we look to grow at a rapid pace, we are thrilled to see a significant increase in qualified applicants across the state," Orcutt said. "This increase positions us to be successful in reaching our short-term and long-term goals of providing educational opportunity to the San Joaquin Valley and to expand access to the UC system for students from all across California."
The Classroom and Office Building 2, scheduled to open this April, will add more than 77,000 square feet of space, including classrooms and research labs to support the campus's projected growth needs.
Again this year, UC Merced leads the system in the percentage of applicants who come from low-income households (60 percent), and whose parents didn't receive a four-year degree (66 percent).