Student-run Journal Showcases Historical Essays, Reviews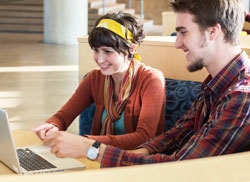 Most UC Merced students have the desire to help shape the university — whether it's the culture or the curriculum. Rocco Bowman was no different.
Bowman is the co-founder of the Undergraduate Historical Journal and served as its inaugural chief editor. The journal is a collection of essays and reviews showcasing the work of UC Merced students and is archived by the California Digital Library. The journal was founded in conjunction with the university's Historical Society in 2013, and the first issue was published last spring.
"At UC Merced there's lots of room to grow," said Bowman, who recently graduated with a bachelor's degree in history. "We get to work on things that go beyond the undergrad experience."
Bowman said the idea behind the journal was to give students a place to publish their research papers in history, while receiving additional input from the editorial staff, comprised of undergraduates. The experience of editing and sifting through about 30 submissions for the first issue also helped Bowman and fellow editors Peter Racco, Sarah Spoljaric, Aaron Lan, Jake Malsbury and Andrew O'Connor improve their own writing and organizational skills.
The first issue includes articles on California stadiums in the early 1920s, and how they reflect the city; the history of relations in San Francisco's Chinatown at the end of the 19th century; and on the implications of "mystic intoxication" in Chinese and Iranian poetry from the 700s to 1400s.
But the real work came well before a single issue was published. Bowman helped create the bylaws and put out the initial call for submissions. He said setting up deadlines, scheduling, and managing and playing editor to students were the biggest challenges.
Ruth Mostern, a history professor, serves as the editorial board's adviser, and said all the work was handled by students. And as the process became more involved, the students rose to the occasion.
"I'm so impressed by what they've been able to accomplish," Mostern said. "The final product looks great."
With the foundation laid, Bowman is confident the journal will continue to attract new students who want to improve their writing and editing skills.
"I think it'll carry on at least into the near future," Bowman said. "There are 10 to 12 people already interested in working on it."
But for Bowman, the real treat has been continuing the UC Merced tradition of carving out new avenues for the university and for future students.
"We get to create our own learning opportunities — it's unique to UC Merced being a young university," he said.  "We kind of feel like pioneers."
A new editorial staff will review and edit submissions for the next issue, which will be published in December.