From Student to Staff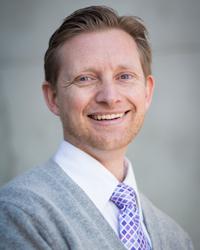 Chris Butler, the assistant director of The Foster Family Center for Engineering Service Learning, is a campus original.
That is, he has been here since the campus opened.
He started as a student, studying environmental engineering studies with Professor Tom Harmon, and is now a staff member. A Central Valley native, Butler transferred to UC Merced because he knew he'd enjoy the intimate campus setting. He graduated with a bachelor's of science in 2007 and got his master's in environmental science in 2009.
He lives in Merced with his two sons, Jacob, 10, and Jackson, 8, and the three of them are slackers — they enjoy slacklining together. Slacklining is walking and doing tricks and acrobatics on a long, flat, narrow band of nylon or polyester suspended in the air between two anchor points.
Perhaps it's good practice for balancing the demands of his job.
Please describe your job and what it entails.
Within The Foster Family Center for Engineering Service Learning, I focus on providing students with opportunities to develop their discipline-specific skills while giving back to the community in real and meaningful ways.
I administer the Engineering Service Learning course that allows student from all grade levels and majors to work on complex, real-world projects that benefit nonprofit organizations in their community, such as projects aimed at improving K-12 education; the development of a "green" certification for loans funded through Kiva Zip; a micro-finance NGO; or the establishment of the new natural reserve adjacent to campus.
I offer a workshop series each semester that provides students with hands-on experiences in technical and professional skills from many disciplines.
Lastly, I work to develop off-campus relationships with organizations that share our vision of helping our students and improving our community and would like to join with us in our efforts.  
What are some of the most rewarding things about your job?
The most rewarding part of my job is easily my interactions with the students. We have a unique set of students who are intensely creative and are able to grasp the complexities of real-world issues and identify innovative ways of addressing those issues. Our students also have a desire to use their education to give back to their community professionally.
What are some of the biggest challenges and how do you overcome them?
The biggest challenge in my position is one of resources, specifically time. I constantly have to identify not only the good things to do, but prioritize the best tasks to focus on. I also rely heavily upon the fantastic support and collaboration of most of the departments on campus. We have an incredibly supportive and motivational group of faculty and staff members who are willing to help our students realize their potential.   
What are you looking forward to in the year ahead?
I can't express how excited I am about the near future. We have been growing and will be continuing to grow and expand the diversity of student teams and our ability to support their professional development while at UC Merced.
Tell us something about you that people on campus might not know.
I can't whistle to save my life.