Students Save Cash Through New Program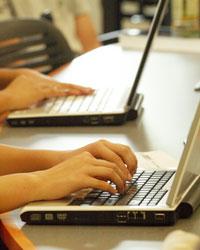 UC Merced students are now using some of the latest and most popular Microsoft Office applications without having to dig into their wallets.
The free software is available under Microsoft's Student Advantage program, which allows campuses that license Office 365 or Office Professional Plus for staff and faculty to extend Office 365 ProPlus to students.
UC Merced is among the first wave of schools and universities to offer the benefit to students – which comes at no additional cost to the campus. The agreement between Microsoft and UC Merced permits the university to provide the latest version of Office 365 ProPlus to students at school, home and on-the-go.
Students can run Office 365 ProPlus on up to five PCs or Macs and Office Mobile on several mobile devices. Applications available include Word, Excel, Outlook and PowerPoint, and the program is available throughout a student's academic career at UC Merced.
Student Vianka Astorga, who started at UC Merced last fall, said she installed Office 365 ProPlus in about 10 minutes and uses it every day.
"It has become very beneficial for me since I am able to do all of my school work with much ease," said Astorga, a biological sciences major from Delhi. "UC Merced provided a wonderful benefit to students who already spend a large amount of money for their post-high school education."
Todd Van Zandt, director of Academic Technology and User Services on campus, said the program was released to students in late January.
While there is no hard count of students who have installed Office 365, heavy traffic at the information technology help desk is one sign of strong response.
"We certainly have seen a good response from students asking for assistance at our IT Help Desk," Van Zandt said. "Students definitely appreciate that they have access to this."
Because students don't have to buy Office, the total potential savings could be in the hundreds of thousands of dollars, he added.
The Student Advantage program is made possible through the recent campus-wide adoption of Office 365 and existing Microsoft enterprise agreements. Andy Luhrs, now a UC Merced alumnus, was a student representative on the Email, Calendaring and Collaboration Committee that investigated options for the campus.
With the help of the 23-person committee, the campus ultimately chose Office 365, he said. Microsoft's introduction of the Student Advantage program was a boost to that selection.
Luhrs, who graduated last year with a bachelor's degree in computer science and engineering, said Office is extremely common in the corporate world and also useful to students in the academic world.
"You need a word processor for your schoolwork every day," said Luhrs, who landed a job with Microsoft last summer.
Another benefit to UC Merced students is that they always will have the most current version of Office – without spending money to buy an upgrade, he said.
"It's one less thing to worry about," Luhrs said. "You're always up-to-date and you always have the latest version."
Since the Student Advantage program debuted in January, campus officials have been spreading the word through outlets such as email and Facebook. Van Zandt said additional outreach efforts are planned, including discussion of the program at student orientation.