'Symbiotic' Effort Melds Art With Science
Graduate student Sabah Ul-Hasan, a Ph.D. Eugene Cota-Robles Fellow in Quantitative and Systems Biology at UC Merced, is working on a documentary series called "BIOTA," which unites art and science and applies them to social justice issues.
The documentary project takes a fresh approach to sharing research and information about biological systems, with an emphasis on symbiotic relationships. The first episode of the "BIOTA" TV program celebrates the diverse ecosystems of Central Valley vernal pools — increasingly rare, seasonal wetlands that create habitats for a variety of species. The episode premiered Thursday (March 31) at two public screenings, one on campus and the other at Coffee Bandits in downtown Merced.
About 6,500 acres that border the UC Merced campus comprise the Merced Vernal Pools and Grassland Reserve and are protected by the UC Natural Reserve System. The reserve's pools are home to the endangered fairy shrimp, tiger salamanders and other at-risk species.
The idea of "BIOTA" started with Ul-Hasan, formerly of Salt Lake City, and her friend and team member Julie Abubo. Both grew up in neighborhoods that lacked the advantages and desirability of other areas. They wanted to reach fellow millennials and people of underrepresented backgrounds, explore the positive aspects of undervalued areas, and promote the idea of symbiosis through a marriage of art and science.
"Often when you watch a documentary series, you see an older guy talking about faraway places," said Ul-Hasan, who came to UC Merced in January 2015. "There's a lot of distance between researchers and the general public.
"We want the series to be very accessible and pique the interest of people who might not even like science," Ul-Hasan said. "The information has got to be presented in a way so that people can relate to it."
That means a focus on visuals, including animation, along with interviews with researchers and music from community members. The documentary series explores the idea of symbiotic relationships — like burrowing owls nesting in old squirrel burrows on the reserve, for example.
There's also a symbiotic relationship between the 10 core members of the "BIOTA" team, who represent skill sets ranging from graphic design and music to production and social media. Ul-Hasan — jokingly described as "BIOTA's micromanager" — brings a strong science background to the project.
Life and Environmental Sciences Professor Mark Sistrom, Ul-Hasan's advisor, said the series should benefit from her scientific training and desire to connect with audiences.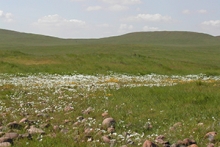 "It's an important project," Sistrom said. "Scientists aren't always the best at communicating with the general public about what we do and why it is important."
Dormant Project Gets Kickstarted
The documentary idea entered a dormant phase with members moving across the country, but regained steam last year with animation support from the Joint Genome Institute and Illumina Studios. The animation was integrated with previous footage into a brief promotional video spotlighting the Great Salt Lake, which helped raise about $2,000 in seed money through a Kickstarter campaign.
More people joined the project team, including videographer and Merced College student Manny Collazo IV. "BIOTA" was a natural fit for Collazo, who's worked on several projects in the Merced area. Collazo has been shooting and editing footage for two segments totaling 20 minutes for the first episode of the series.
"I didn't know much about the vernal pools when I started working on this project," he said. "But I've learned a lot about the reserve during filming, editing, and just being around people who do research on the reserve."
Collazo also values the experience of working with the project team.
"The idea of symbiotic relationships is great," he said. "Everybody brings their strengths to the table. I don't think we could do half of what we have done — and plan to do — without every member of the team."
Ul-Hasan said the project also is designed to promote community involvement and improve perceptions about living in places like the Central Valley and Salt Lake City. Future episodes of the series will focus on California and the West in hopes of accruing funds for addressing locations across the country.