Textile Discovery Suggests Southern Route for Silk Road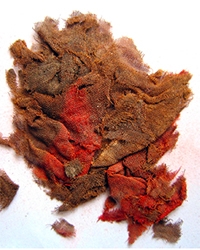 Cloth remains found in the Samdzong tomb complex in Nepal by UC Merced Professor Mark Aldenderfer suggest the village might have been part of the long-distance trade network of the Silk Road.
Textile and dye analyses of the cloth — the results of which were published recently in the journal STAR: Science & Technology of Archaeological Research — indicate the material could not have been produced locally and likely was made using imported materials from China and India. This could mean the Silk Road extended to the Upper Mustang region of Nepal, farther south than previously thought.
The fabric was analyzed by Margarita Gleba of the McDonald Institute of Archaeological Research at the University of Cambridge, where Aldenderfer is a visiting scholar. The dye analyses were conducted by Ina Vanden Berghe at the Royal Institute for Cultural Heritage.
"The data reinforce the notion that instead of being isolated and remote, Upper Mustang was once a small but important node of a much larger network of people and places," Gleba said. "These textiles can further our understanding of the local textile materials and techniques, as well as the mechanisms through which various communities developed and adapted new textile technologies to fit local cultural and economical needs."
The cloth itself, dated between A.D. 400-650, was a rare find. Textiles made from organic materials typically would have deteriorated over such a long period of time, but Samdzong's high altitude and dry climate enabled uncommon preservation of the samples.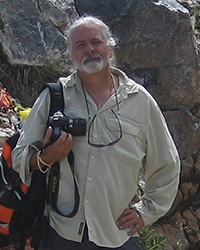 Aldenderfer excavated 10 shaft tombs at Samdzong from 2010 to 2013. The tombs were hidden until 2009, when a seismic event calved off the façade of the cliff into which they had been carved.
In one of them, Samdzong 5, he found an object composed of wool fabrics with copper, glass and cloth beats attached. The object was found near a coffin along with a spectacular gold and silver funerary mask, which had small pinholes that likely were used for attaching fabric straps to enable the mask to be worn.
"It's long been suspected that the high transverse valleys of the High Himalayas were connected to the fabled Silk Road, but data from controlled excavations has been lacking until recently," Aldenderfer said, noting another recent project that shows the Silk Road might have ventured through Tibet. "These projects confirm this suspicion and offer new opportunities for understanding the political and social dynamics behind the expansion of this trade network."
Aldenderfer, recently named one of UC Merced's first two John D. and Catherine T. MacArthur Chairs, is at Cambridge during a yearlong sabbatical after stepping down as dean of the School of Social Sciences, Humanities and Arts.