UC Merced to Host Systemwide Staff Assembly Leadership Meeting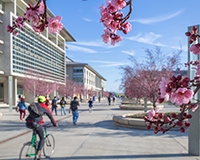 UC Merced staff members will have an opportunity to meet members of Staff Assembly leadership from other University of California campuses and hear speakers including senior leaders from the Office of the President and UC Merced when the Council of UC Staff Assemblies (CUCSA) Delegation comes to UC Merced from March 4 to 6.
The CUCSA Delegation meets quarterly to share organizational best practices and to communicate and collaborate on staff issues. Next week's visit marks the delegation's third visit to UC Merced.
UC Merced Staff Assembly President Cindi Deegan and Vice President Pam Taylor represent the campus on the CUCSA Delegation.
Voice for Staff
"We are thrilled to host this meeting at our campus," Deegan said. "The purpose of these delegation meetings is to bring valuable staff perspectives to the table in discussing issues, providing guidance and presenting recommendations toward management initiatives. We are a voice for staff, and it's important that our members come and see what we do to promote the interests and welfare of staff at both a campus and systemwide level and help make work life better for UC staff."
The following individuals are confirmed to speak, and staff members are invited to attend their presentations:
Chancellor Dorothy Leland
Provost and Executive Vice Chancellor Tom Peterson
Vice Chancellor for Business and Administrative Services Michael Reese
Staff Advisor to the Regents Donna Coyne (UC Riverside) and Staff Advisor Designate De Acker
School of Social Sciences, Humanities and Arts Dean Mark Aldenderfer
From the Office of the President:
Vice President of Human Resources Dwaine Duckett
Executive Director of Compensation and Strategy Dennis Larson
Employee Relations Director Marie Hairston
The specific dates and times for each speaker's presentation are posted online.
CUCSA History
Founded in 1974 and chartered the following year, CUCSA is dedicated to improving communication between UC administrators and staff and between staff members at UC locations that include all 10 campuses, the Office of the President and Lawrence Berkeley National Laboratory. The council's objective is to provide service to the university by providing the staff perspective to decision makers.
CUCSA presents staff perspectives and recommendations on university initiatives to the Office of the President. This year, the group is examining the following topics:
Early career staff retention and advancement
Human resources recruitment and onboarding (the process of acclimating new employees to their work environment)   
Staff participation on systemwide committees
Information technology strategic sourcing
Staff educational benefits
CUCSA's role has evolved and expanded since its inception. During the group's early years, staff did not advise UC administrators or serve on systemwide committees. In 2005, the Board of Regents voted to approve a recommendation by then-President Robert Dynes that staff be included at the Regents table as advisors. It marked the first time staff members would serve on a Regental committee.
In 2006, the Regents voted to have a staff advisor and staff advisor designate as permanent members at their table. UC Merced Campus Ombuds De Acker is the staff advisor designate and will move into the staff advisor role July 1.
To learn more about CUCSA, visit the council's website.