UC Merced Team Accepted for Assessment in Action Program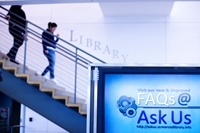 UC Merced has been accepted to participate in the Assessment in Action (AiA): Academic Libraries and Student Success program. Our institutional team has been chosen to participate in this second cohort of the Association of College & Research Libraries (ACRL) Value of Academic Libraries initiative, along with teams from 72 other academic institutions.
Through this 14-month program, the UC Merced team will create and implement an action learning project intended to evaluate student learning in relation to information literacy in select Writing 10 sections. In doing so, the project will demonstrate the value of library research instruction as partners in cultivating this critical 21st century skill. Results will be presented at the annual Association of Libraries (ALA) conference in summer 2015. UC Merced's team members include Sara Davidson Squibb and Susan Mikkelsen of the UC Merced Library; Laura Martin in Academic Affairs and Matt Moberly and Anne Zanzucchi of the Merritt Writing Program.
For more information, please contact the UC Merced Library.