University to Celebrate Staff Contribution
You know someone who fits the bill.
An officemate who jumps in to lend a hand with a task. An assistant who tracks down critical information with only a moment's notice. A savvy technician who solves a frustrating problem. A colleague who treats you to a cup of coffee "just because."
Talk to any staff member and you're bound to hear stories such as those and others that demonstrate the dedicated, hard-working and service-oriented attitude UC Merced staff exhibit daily to support the campus, its mission and goals.
Recognizing and acknowledging staff members for all they do is the catalyst behind Staff Appreciation Week, the annual celebration that takes place May 20-24. Sponsored by the UC Merced Staff Assembly with support from the Office of the Chancellor, Staff Appreciation Week is an opportunity to acknowledge staff's contributions to the campus and participate in a number of fun activities.
 "We've had a lot of fun putting together this year's events," said Ellie Jorritsma, who oversees Staff Assembly's Programs, Events and Outreach. The planning committee of eight has been enthusiastically working on the event since early March. "I hope that all staff members have an opportunity to experience at least part of the week, if not all. It's a chance to let staff know they are appreciated, make some new friendships and just enjoy the week."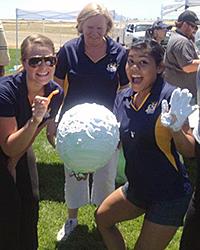 This year's theme is "Locally Grown Family," a nod to the region's agricultural roots.
The week kicks off Monday (May 20) with a farmers market outside the Kolligian Library featuring organic eggs and produce, olive oil, nuts, fruits, lamb and other fare. This year's Staff Appreciation Week T-shirts feature an illustration created by Physical Planning Design and Construction staffer Neil Edwards. Scheduled festivities during the week include a staff breakfast and ice cream social, dodge ball, campus tours, a My Favorite Critter contest, a Go Fishing fund raiser and more, culminating with the staff picnic May 24, during which winners of the annual Staff Excellence Awards will be announced. A schedule of events is available on the Staff Assembly website.
UC Merced Staff Assembly is an organization dedicated to promoting the interests and well-being of all staff members. Staff Assembly supports the university's mission by providing forums for staff at all levels to communicate on issues of mutual concern, helping to create educational opportunities and providing activities for interaction among staff employees.
In addition to celebrating staff, several events during the week help raise money for the Staff Assembly scholarship for employees' children. Proceeds from sales of candy grams, T-shirts and the Go Fishing ticket sales raise money for the Staff Assembly's scholarship fund.
The financial need-based scholarship benefits staff members' dependents who attend UC Merced. Staff Assembly has spent the last several years building up an endowment, and last fall awarded its first $1,000 scholarship to graduating senior Austyn Smith, daughter of Becky Smith, manager of academic personnel for the School of Social Sciences and Humanities.
"Receiving this scholarship helped with expenses during my last year here at UC Merced," said Smith, a political science major who will participate in commencement this weekend. "I'm very aware of how hard staff work year round to make UC Merced the great institution it is, and being the first student to receive this scholarship is a great honor, one of which I'm very grateful and proud."