Walking, Talking in Infants Connected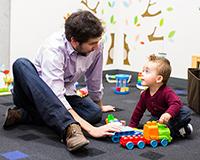 Infants show a sharp increase in understanding and using language shortly after they begin walking, according to research by a UC Merced developmental psychology professor.
"What is it about walking?" Professor Eric A. Walle said. "Does walking lead to more exploratory behavior by infants, then more labeling by parents and more words?"
Walle and his Interpersonal Development Lab are now trying to figure out what factors might be leading to the language growth.
Like many discoveries, this was serendipitous. Professor Eric A. Walle and his then-Ph.D. advisor at UC Berkeley, Professor Joseph J. Campos, were studying a different aspect of child development.
The relationship between language and walking had never been identified before. Walle demonstrated the walking-talking connection over time as the infants developed between 10 and 13-and-a-half months old and in a group of crawling and walking infants that were 12-and-a-half months-old. The two studies together showed that the spike in language was clearly associated with walking — not with age.
The study was published last summer in Developmental Psychology. Walle has another study under review that shows the same finding in Chinese infants, evidence that the connection crosses cultures, too.
Walle is part of a growing psychology group at UC Merced that includes experts with in health, quantitative and developmental psychology and affiliated faculty in public health and cognitive science.
He focuses on understanding how children develop between the ages of 11 months and 2 years old. One line of inquiry looks at how they respond to different emotions expressed by adults.
Past research has looked at how infants respond to positive and negative emotions, but emotions are much more nuanced than that. Walle wanted to know how the response to anger might be different from sadness. He's in the midst of studying the data he's collected from 250 infants in three different age groups.
Walle arrived at UC Merced in 2012 after receiving his Ph.D. from UC Berkeley. He earned his bachelor's degree from Vanderbilt University. He said he was drawn to the university because it'd give him the opportunity to conduct research with groups that are often overlooked, including Latinos and immigrant populations.
The opportunity to cross disciplinary borders also appealed to him. He's already begun collaborating with cognitive science Professor Anne S. Warlaumont.
"Together we are exploring how the child's language environment may change following the onset of walking," Walle said. "Forging such new collaborations is one of the benefits of being at a growing research university like UC Merced."