Women's Basketball Sees Bright Future After First Title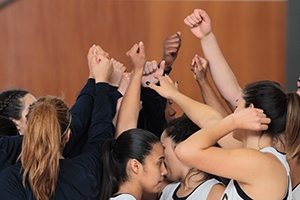 The UC Merced women's basketball season came to an end Wednesday night when the Bobcats fell to Morningside College in the first round of the NAIA Division II tournament.
The 79-45 defeat against the tournament's No. 1 overall seed marked the end of a landmark season in the history of UC Merced's young athletic department.
The Bobcats, who qualified for the tournament by claiming
the first conference title in UC Merced history
, appear well positioned for the future. Four of the team's five starters will return next year, including its top five scorers in conference play, and the team is poised to take command of the conference with traditional powerhouse Menlo moving to NAIA Division I.
"I'm just really proud of the team," coach Kevin Pham said. "It's only our third season, and we're already competing on a national stage. We've got stuff to work on, but we're young, and this was an incredible experience."