Merced 2020 Project Breaks Ground in 23 Days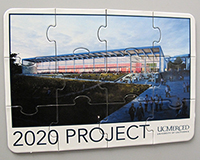 Don't miss the chance to witness a piece of UC Merced's history as the campus prepares for the 2020 Project's groundbreaking ceremony on Friday, Oct. 14.
The event starts at 1 p.m. in the South Bowl. Those who haven't RSVP'd can do so here. The deadline to respond is Oct. 12, so don't delay.
Fence Completion and Wooden Bridge Closure
Fence installation for the construction site continues to proceed and will be complete within the week. Following completion, images and information regarding the project will be added.
The fence is designed to protect the campus community from construction equipment and activities. As such, pedestrian access across the wooden bridge near Science and Engineering Building 2, as well as the unpaved path south of Little Lake, will be closed beginning Sept. 23. This will allow the construction team to begin site clearance work to proceed with the project in a safe environment.
Build UC Merced, a new feature in Panorama, assists in keeping faculty and staff members informed of developments, construction advisories and news related to the 2020 Project. The most up-to-date information can be found on the 2020 Project advisory page or Twitter.
Detailed information regarding the project — including an image gallery, construction timeline, maps and more — is posted on the 2020 Project website.