Merced 2020 Project Earns Another Accolade; Aerial Photos Show Progress
UC Merced's ambitious Merced 2020 Project continues to unfold with the first facilities scheduled to open in Fall 2018. In total, 13 new buildings and supporting infrastructure will be added to the campus by Fall 2020. Here are the latest updates regarding the project:
Moving Forward
Rain or shine, work is occurring behind the scenes for the project's timely delivery. The latest project snapshot illustrates how the designers have been focused on refining plans for the first set of buildings — Housing 1A, Housing 1B and Dining 1D — while the construction team has been securing necessary permits, recruiting staff and preparing access roads.
The most visible recent site work was the completion of a dedicated entrance along Lake Road for construction equipment. This month, the team will continue rough grading and water line installation. The next milestone will be the installation of a set of trailers for the construction team.
Latest Aerial Photos Available for Download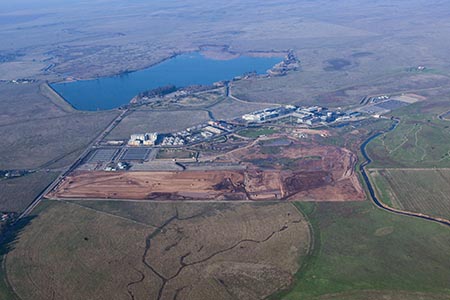 The Merced 2020 Project website now features the latest aerial images of the campus expansion. The photos are an easy way to appreciate the scale of the initiative and will be updated periodically.
Campus community members who are interested in learning more about a specific new facility are encouraged to visit their individual description pages.
Project Named 'P3 Deal of the Year' by Thompson Reuters
The Merced 2020 Project was named "2016 P3 Deal of the Year" by Thomson Reuters' Project Finance International Awards. Vice Chancellor for Planning and Budget Daniel Feitelberg will receive the accolade on the campus's behalf at an awards ceremony being held in London this week. This is the third time the project has been recognized.
For the latest construction updates, please visit the Project Construction Look Ahead page.