Human Rights Watch Film Festival: "Return to Homs"
Date:
February 13, 2015 - 7:00 pm
The UC Merced Human Rights Watch Film Festival brings home the discussion about human rights through films that highlight efforts to end violence and inequality throughout the world.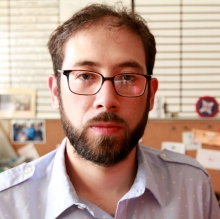 A different film is shown every Friday in February, with the final screening featuring filmmaker Rodrigo Reyes (pictured), who spent part of his childhood living in Merced. He is best known for "Purgatorio," which premiered at the Los Angeles Film Festival last year and won the Michael Moore Award for Best Documentary at the Ann Arbor Film Festival in Michigan. The film explores the U.S.-Mexico border and the effects of politics on migrant life and health.
All films begin at 7 p.m. in COB 120 and last about 80 minutes each. They are:
▪ Today, Feb. 13: "Return to Homs" a portrait of a group of young revolutionaries in the city of Homs in western Syria (2013, directed by Talal Derki)
▪ Feb. 20: "The Homestretch," a film about homeless teens battling the odds in Chicago (2014, directed by Anne de Mare and Kirsten Kelly)
▪ Feb. 27: "Purgatorio," a provocative meditation that captures the brutal beauty of the U.S.-Mexico border (2013, directed by Reyes)
For information on the series, email Professor Nigel Hatton.