McCloskey to Give Public Talk on Stem Cells, Regenerative Medicine
Date:
January 30, 2015 - 7:30 pm
Professor Kara E. McCloskey will speak this week about cardiovascular stem cell engineering as part of the Modesto Area Partners in Science (MAPS) lecture series. The free talk begins at 7:30 p.m. today (Jan. 30) in Sierra Hall 132 at Modesto Junior College's West Campus. It's open to anyone ages 12 and older.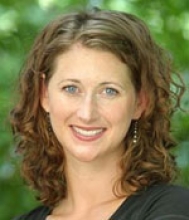 McCloskey, a founding professor in the School of Engineering, uses stem cells to cultivate cardiac and vascular tissue aimed toward the creation of tissues that function just like those found in the body. In Friday's presentation, she'll cover the work of her research team and provide background on stem fundamentals, cell sourcing and various techniques for tissue engineering of cardiovascular materials.
"It's exciting to share what our lab is doing and the practical applications of our research," McCloskey said. "The field of regenerative medicine is still in its infancy, and opportunities for careers in this field will continue to grow."
The purpose of the lecture series is to offer free science programs that allow the general public to interact with scientists and gain exposure to mind-expanding ideas.