Academic Senate Office Appoints Laura Martin as New Executive Director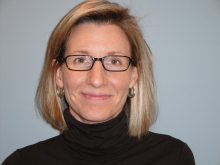 Laura Martin is the new executive director of the Academic Senate office at UC Merced.
Martin was the search committee's unanimous choice to lead the office. She served as the founding director of the Office of Periodic Review, Assessment and Accreditation Support and is the campus's accreditation liaison officer. In this capacity, she has worked with faculty, students and staff members across the institution to advance assessment practices and processes in support of undergraduate and graduate learning outcomes, student success and administrative services.
Martin has worked extensively with the Academic Senate, consulting with the Graduate Council, serving as an ex-officio member on the General Education Subcommittee, and jointly sitting on the Periodic Review Oversight Committee and all of its precursor committees since its inception as the Senate-Administrative Council on Assessment in 2011.
Previously, Martin served as assistant director of the Center for Research on Teaching Excellence where, as an assessment and accreditation coordinator, she coordinated UC Merced's initial accreditation and supported faculty in the areas of teaching, learning and assessment.
Martin earned a Ph.D. in biology from UCLA. During her career, she has worked as a researcher, university lecturer, outreach education specialist and middle school science teacher. She joined UC Merced in 2007.