Academic Specialist Shepherds Campus Community's Growth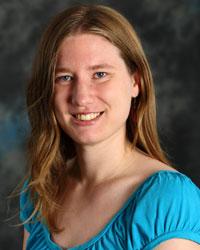 Kerry Clifford, academic specialist for the School of Natural Sciences, has been with UC Merced since 2011, coming to the San Joaquin Valley from UCSF. Within the school, Clifford helps coordinate academic appointments. 
Here, she talks about her job, the changes she's seen and American history. 
Please explain what your job entails.
I work as a part of a team in the School of Natural Sciences to coordinate academic appointments. We coordinate faculty searches and hiring, as well as the advancement process for current faculty members, and I specialize in the hiring process for postdocs, research specialists, lecturers and in visa applications. It's a very interesting job because we get to help UC Merced grow in a very literal sense, bringing in one new person at a time.
What are some of the biggest challenges in your work and how do you overcome them?
The appointment process for academic personnel involves a lot of moving parts – policies that change from year to year, decisions that sometimes need to be made by three different people on three different continents, and coordination between our school, the Office of the Chancellor and the Office of International Affairs.
On top of that, because we're such a new university, the chances of any one appointment being the first time we've had a particular issue come up are a lot higher than they are at other campuses.
I find that under these circumstances, it's really important to focus on communication, making sure everyone is on the same page, making sure we take advantage of the knowledge and resources we have in people here on campus, and doing our best to handle all of these 'firsts' in a way that sets a good precedent for the others that will inevitably come later.
What are some of the biggest changes you've seen in your time with the School of Natural Sciences?
I've only been here for a little less than two years, so I probably can't claim I've seen any dramatic changes … but I did manage to come in just as the School of Natural Sciences was getting a new dean, and there have been some other significant personnel changes as well. The time I've been here has also coincided pretty closely with the new postdoctoral union rules coming into effect, which definitely impacts my own job and the people in our research labs.
What new initiatives/projects/plans are you looking forward to in the new year?
As the university is getting bigger, it seems like a lot more is starting to happen on the school level, especially with academic personnel issues. I'm looking forward to being involved in that, finding ways to make some of our processes smoother, and in general improving the way we bring people in and make sure they have a good first impression of UC Merced.
Tell us something about yourself that most people on campus wouldn't know.
I really like presidential biographies and American history in general, and have derailed more than one conversation by thinking I see an opportunity to bring up some trivia about Harry Truman, FDR or Calvin Coolidge.