Academic Year Begins with Sharper Focus on Emerging Fields of Excellence, Graduate Programs and Flexible Growth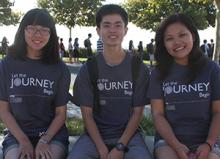 The start of each school year brings new opportunities, new challenges and many new faces. This year, that means nearly 1,500 new students — including a significant increase in the number of graduate students — 26 new faculty members and a new provost.
UC Merced marks the start of its eighth year with record enrollment of about 5,600 students, 1,200 faculty and staff members and a 23 percent increase in the number of graduate students.
"We're delighted with our initial growth, the caliber of our students, faculty and staff, and the overall quality institution that's rising here in the heart of the Valley," Chancellor Dorothy Leland said. "Now it's time to take the next step — identifying and strengthening our most promising areas of academic and research excellence in order to make the greatest long-term contribution to the region, the state and the world.
"We're very excited to get started on this phase of our development."
Part of that next phase will involve the campus's new Provost and Executive Vice Chancellor Thomas W. Peterson. He officially starts work in December, though people will see him around campus well before then.
New Provost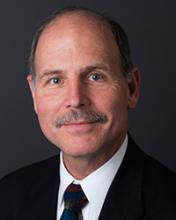 Peterson, 62, leads the Directorate for Engineering at the National Science Foundation, a $7 billion federal agency that invests in the nation's research and education activities across science and engineering fields. The Directorate for Engineering, with a budget of approximately $825 million, provides support for frontier research, enhances technological innovation and integrates those activities with the education of new engineers.
Peterson has been particularly interested in integrating research and education investments, and in recognizing and supporting interdisciplinary research contributing to the solution of grand challenge problems.
He has been on the faculty of the University of Arizona since 1977, and before joining the NSF in 2009, served for 11 years as dean of the College of Engineering, overseeing 18 undergraduate and 15 graduate degree programs with a state budget of $18 million and external research support of $30 million annually.
The position of provost and executive vice chancellor has broad responsibilities in two domains. As provost, Peterson serves as UC Merced's chief academic officer and has principal responsibility for the planning, development, implementation, assessment and improvement of all academic programs, policies and supporting infrastructure, including facilities and information technology.
The provost ensures academic excellence through faculty recruitment, retention and renewal processes as well as through rigorous review of faculty appointments, tenure and promotion.
He also is responsible for the planning, quality and delivery of the education provided to UC Merced's undergraduate and graduate students. The provost carries out these responsibilities with consultation and in collaboration with the campus Academic Senate under the university's shared-governance model.
As executive vice chancellor, Peterson serves as Leland's leading senior executive for day-to-day campus operation and makes decisions on behalf of the chancellor when she is unavailable.
The EVC convenes, as appropriate, vice chancellors and other senior administrators to address issues that cut across divisional lines, oversees the campus budget-request process and leads strategic planning and other strategic campus initiatives in close collaboration with the chancellor.
"UC Merced is ready to focus more clearly on building long-term capability in key areas of distinction," Leland said. "Dr. Peterson is ideally suited to help forge a clear and compelling academic vision and plan for the future while strengthening campus operations in many other important ways."
With the advice and guidance of the UC Merced Division Council Committee on Academic Planning and Resource Allocation, Leland will launch a campus-wide initiative this year to help define the university's emerging strengths and sharpen its focus on research competitiveness. Participants will also imagine the distinctive features of UC Merced as a highly competitive research university with about 10,000 students and use that as a planning foundation. Peterson, along with the influx of new faculty members from leading universities around the country, will add considerable depth and perspective to the planning process.
New Faculty; More Space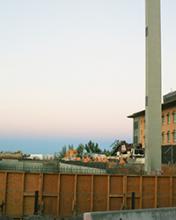 Thanks to aggressive hiring, UC Merced now has more than 150 ladder-rank faculty members and 130 lecturers, with new additions to all three schools.
Even though the campus and the state still face one of the most challenging economic climates in decades, adding so many new faculty members reflects the campus's and the San Joaquin Valley's rapid growth. It also signals the greatest potential for interdisciplinary collaboration, research and other aspects of the university's strategic academic vision and long-term mission.
Similarly, the large increase in graduate-student enrollment supports the university's ambition to rank among the top public research universities in the country. Top-quality graduate programs attract significant research funding from a variety of government and private sources and bring distinction to the institution and the researchers whose breakthrough discoveries and inventions enable societal progress.
"UC Merced has already established a number of graduate programs that show enormous potential and will scale successfully as we grow," Leland said. "The sharp increase in graduate enrollment this year will accelerate this process and help build capacity in selected research areas where important future contributions can be anticipated."
With levels of state funding for higher education likely to remain uncertain for some time, the university is also stepping up efforts this year to secure private funding and find imaginative, cost-effective ways to sustain its rapid growth and development. The recent hiring of the Urban Land Institute to develop alternative growth scenarios for the campus, which expects to reach 10,000 students within eight to 10 years, illustrates campus leaders' flexibility in trying new approaches while budgets remain tight.
Sociology Professor Tanya Golash-Boza is among the new faculty members hired this year. Her research interests include immigration policy, deportations and racial identity.
"Two things that drew me to UC Merced are the students and the location in the Central Valley of California," Golash-Boza said. "The tremendous diversity of the student body is one of the most exciting parts about working at University of California, Merced. My current research is on immigration policy, and I look forward to working with students, faculty and community members to understand more about the impacts of immigration policies in the Central Valley in particular and in California more broadly."
New Students
UC Merced's incoming freshman class — also a record at nearly 1,500 students — hails from all parts of the state and is one of the more competitive classes of freshmen in UC Merced's history. It is also the university's most diverse, with Hispanic students alone representing approximately 47 percent of this year's incoming class.
Two new students, Katherine Chwa, of Arcadia, and Carina Garcia, of Gilroy, agreed they appreciate the campus's intimate atmosphere, which will allow them to work closely with faculty members.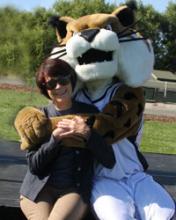 "You can actually interact with the professors," Garcia said. "You get more help and get to learn more things than being in a class with 400 people."
Leland led the new students over the Scholars Lane Bridge in the annual start-of-term march, and had the opportunity to meet some of the Class of 2016.
She said she looks forward to meeting more of them, and hopes they enjoy their experience at UC Merced.
"Your journey here starts at an exciting time for UC Merced," Leland said. "I hope you will make the most of it, and find time in your busy academic schedules to take part in some of the many activities UC Merced offers and sponsors."