Academic Year Starts With Convocation Events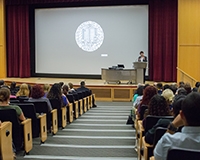 Faculty and staff members at UC Merced kicked off the new academic year by celebrating the accomplishments of peers and hearing a state-of-the-campus address from Chancellor Dorothy Leland during two convocation events held this month.
Convocation is a tradition at many universities. UC Merced held convocations in its earlier years, but this year marked the first time separate events were held for faculty and staff members. 
She discussed the importance of the 2020 Project — the campus's expansion plan to add nearly 1 million assignable square feet over the next five years to accommodate 10,000 students.
During the events, speakers also welcomed the campus's newest faculty and staff members. Assistant Vice Chancellor for Campus and Public Safety and Chief of Police Albert Vasquez, who started his appointment on the same day as the staff convocation, Aug. 17, was sworn in with his wife, Sejla, by his side.
During the faculty convocation, faculty members who received a promotion or tenure were recognized, along with recipients of continuing lecturer awards:
Promotion and tenure recipients:
Paul Almeida (SSHA)
Roger Bales (Engineering)
Miguel Carreira-Perpinan (Engineering)
Courtenay Conrad (SSHA)
Linda Hirst (Natural Sciences)
Andy LiWang (Natural Sciences)
Manuel Martin-Rodriguez (SSHA)
Carrie Menke (Natural Sciences)
Erik Menke (Natural Sciences)
Stephen Nicholson (SSHA)
Rudy Ortiz (Natural Sciences)
Dunya Ramicova (SSHA)
Anna Song (SSHA)
David Torres-Rouff (SSHA)
Nella Van Dyke (SSHA)
Anne Zanzucchi (lecturer with security of employment, SSHA)
Continuing lecturer awards:
Heather Devrick (Merritt Writing Program)
David Hambley (Natural Sciences)
John Haner (Merritt Writing Program)
Heather Lanser (Merritt Writing Program)
Vanesha Pravin (Merritt Writing Program)
Dawn Trook (Merritt Writing Program)
Robert Yancey (SSHA)