Advocate Brings 14 Years Experience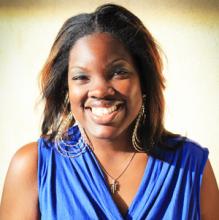 UC Merced's Violence Prevention Program has welcomed Campus Advocate Tamara Isaac-Cooksey, who is contracted through Merced's Valley Crisis Center. Isaac-Cooksey will provide free and confidential advocacy services for sexual assault, dating/domestic violence and stalking for UC Merced students, staff and faculty. Advocacy services can include crisis counseling and safety planning, accompaniment to exams or interviews, emergency transportation, assistance with restraining orders and non-judgmental support.
Isaac-Cooksey received her master's in marriage and family therapy, and has more than 14 years of experience in the social services field. She has a diverse professional background working previously as a counselor in Mariposa, a social worker in Los Angles, a staff member at a group home in Fresno and a case manager in Atlanta.
With Isaac-Cooksey on board, the Violence Prevention Program will be able to continue to support the UC Merced community. In 2012, the program's advocacy services reached 39 UC Merced affiliates — 13 for sexual assault, 20 for dating/domestic violence and six for stalking incidents — and included academic and housing assistance, medical response, legal assistance and support-group services. About half of the survivors using the Violence Prevention Program's services chose to report to on- or off-campus law enforcement.