Alum Enjoys Playing a Part in UC Merced's Continued Growth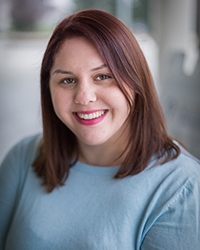 UC Merced has played a significant role in Sara Anastos' life.
The Tracy native graduated from UC Merced in 2010 and was a member of the university's founding class. On her second day of school, she met her future husband, Ross Anastos. After earning her degree, she landed her first post-college full-time job here.
She has seen UC Merced evolve from a construction site to an emerging research university, and now she has a ringside seat as the campus prepares for its next stage of development. Last spring, Anastos took a job as coordinator for the 2020 Project, UC Merced's plan to double the physical capacity of campus in the next five years and accommodate growth to 10,000 students soon after.
"I grew up with UC Merced and I think a lot of alumni feel that way," she said. "It's like watching a flower bloom, and I've seen it from both sides, as a student and now as a staff member."
The work she does now is quite different from what she initially envisioned would be her career. As a student, she studied science.
"I studied biology and was passionate about it," she said. "I wanted to work on a cure for cancer and study stem cells and do medical research."
Her transition to a new career path started after she got a job working in administration.
"I had so much fun working on the staff side," Anastos said. "Doing medical research can be a lonely job. It's not that I didn't like it. I just realized it wasn't a good fit for me."
Her current role, however, suits her well. Anastos said she is excited to see her alma mater's continued progress. She serves on the UC Merced Alumni Association's board of directors and is president of the Merced chapter.
What does your job entail?
I manage the logistics of the whole project, which includes meeting coordination, tracking open items and managing our consultants. I also assisted with creating the 2020 Project program. I handle the details but I also try to help fill the gaps because everyone is busy. We're having all these meetings and there are a lot of people involved.
What do you find most rewarding about your job?
Being part of the future. Knowing that all of the work and the long days I put in are going to pay off and ensure that UC Merced will thrive. It's exciting to know that I have a hand in helping UC Merced reach its next milestone.
What are some of the things you are looking forward to in your job and in your life in 2016?
2020 is a very exciting project. I'll be excited when we get through the evaluation process and we're moving forward. It's going to be a huge celebration. I'm hoping the chancellor will throw a really big party, or at least I will be throwing a big party. I also have some personal goals. I really want to earn my project management certification. Also, Ross and I bought a house in November, and that was an exciting milestone.
When you were little, what did you want to be when you grew up?
A scientist. When I was 8 or 9 years old, my dad bought me a microscope. I had so much fun with it. I would find things and put them under the microscope. My dad still talks about that.
What lessons have your work life taught you?
Working on the 2020 Project has helped me learn to strive for a good work-life balance. That's been difficult for me, and I know others struggle as well.
What is something that people don't know about you?
I'm a sport shooter and an advisor for the Sports Shooting Club. I started learning as a freshman. My residence advisor did it and one day asked if I wanted to try it. I thought, sure, how hard could it be? It's fun and interesting. You use a lot of fine motor skills.