Alumna Crunches Data for Viticulture Lab
Katherine Amrine knows a few things about data analysis.
As a UC Merced graduate student, her dissertation described a new way of classifying living things from bits of data gleaned from whole genomes. She also applied that innovative approach to one of the most abundant bacteria in the ocean, revealing that different strains are more distantly related than previously known.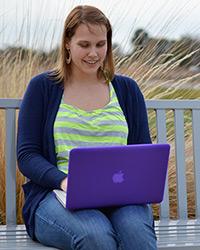 Amrine, now a postdoctoral scholar at UC Davis, is applying the computational skills she honed at UC Merced to help determine why certain grapevines are resistant to fungal pathogens, information that could prove important in crossbreeding vines for the region's wine industry.
"There's a learning curve with work, but it's fun to learn," she said. "I thrive on being an expert."
In many ways, Amrine is a classic UC Merced success story. She was drawn to campus by Professor David Ardell's creative approach to biology and liked the financial stability the campus could offer graduate students through appointments as teaching assistants.
Amrine's contribution quickly went beyond the laboratory — she was elected to serve as the campus affairs officer for the Graduate Student Association, a post she held for two years. She also served as secretary. Her leadership role with the association allowed her to serve on the search committee that recommended Dorothy Leland serve as the campus's third chancellor. She also regularly interacted with campus leadership.
"I felt connected to the center of campus," she said. "You see that the administration is more energetic about interacting with students and making positive changes."
Though she served in leadership roles, her main focus was conducting research in Ardell's computational biology lab, which aims to discover new principles governing information flow in living cells and better understand the nature and origin of life, particularly growth, stress-resistance, aging and disease.
"Katie contributed so much through her leadership and persistence, not only in advancing our science but also building our campus," Ardell said.
The first chapter of her dissertation will be published in PLoS Computational Biology. In the study, Amrine used the structure and function of tRNAs, to offer a clearer picture of evolution in bacteria with unique genomic properties. The research could prove helpful for understanding the complex relationships in the tree of life.
"It's like a puzzle," she said. "Puzzle pieces have to look similar enough to fit in same picture but also be unique enough to belong in one specific place. TRNAs operate this way, and can provide answers  to phylogenetic questions that classic methods have not been able to address."