Alumni Bring Unique Experience to Bobcats' Coaching Ranks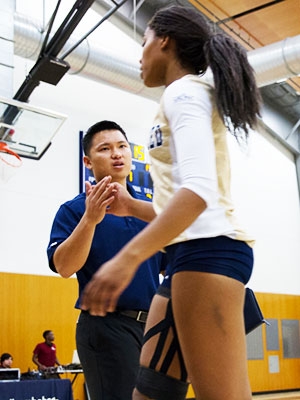 Some of UC Merced's most celebrated sports stars of the recent past are now helping to lead the newest generation of student-athletes at their alma mater.
For these former players, coaching is a chance to remain connected to a campus they love and to share their experiences and work ethic with student athletes. UC Merced is a member of the National Association of Intercollegiate Athletics and competes in a total of eight varsity sports for men and women.
"These coaches understand the challenges of what it means to be an athlete playing in a small, growing institution," said David Dunham, director of recreation and athletics.
Alumni coaches include:
former volleyball player Surabordin "Ai" Prachumsri, head coach of the women's volleyball. team and interim head coach for the men's team;
former basketball player Leticia "Moses" Oceguera, now an assistant coach for women's basketball;
former cross country runner Sofia Rios, assistant coach of men's and women's cross country;
former volleyball player Victoria Rouse, assistant coach of the women's volleyball tem and interim assistant coach for the men's team; and
former soccer player Samantha Mar, who was as assistant coach for women's soccer last season.
Oceguera, a point guard from Richmond who played four years at the university — on the club team as a freshman — was part of the Bobcats' first women's basketball conference championship. Dunham called her a strong, tenacious player whose knowledge of the game has translated well to the coaching ranks.
"You have so much pride in where you are from — my heart and soul are into this," said Oceguera, who graduated from UC Merced in 2016 with a degree in developmental biology. She served as the team manager last year and as a volunteer assistant this year, helping the women's basketball team to its third straight California Pacific Conference Championship.
Oceguera, who inherited the "Moses" nickname from her father, said she chose UC Merced despite scholarship opportunities at other universities. She loved the campus and knew women's basketball was scheduled to become a varsity sport in her sophomore year.
Now, rather than leading plays on the court, Oceguera guides from the sidelines.
"It's great seeing the girls grow," said Oceguera, who plans to attend graduate school and perhaps pursue a career in social work or physical therapy. "I really owe everything to UC Merced because it has given me the best experience of my life."
Also bringing on-court experience to the coaching ranks is Prachumsri, who spent three years on the men's volleyball club team, and then became the starting libero in the team's inaugural year at the varsity level when he was a senior in 2013.
He was assistant coach for women's volleyball in 2015, then took over as head coach in August 2016 and led the team to its best conference record (10-4). Prachumsri recently was named interim head coach for the men's team after spending two years as an assistant.
"He has developed into a solid coach," Dunham said. "Every single time he has been given an opportunity, he has excelled."
Prachumsri, a native of Thailand who settled in Torrance as a teenager, is the first UC Merced alumnus to hold a collegiate head coaching position. He graduated in 2014 with a degree in bioengineering and had planned to go to medical school.
However, he put that on hold when offered the chance to become an assistant coach for the men's team.
"I can see myself coaching for a while," Prachumsri said. "I'm entirely invested in seeing the school succeed and seeing the team succeed."
He has observed a dramatic evolution in athletics since he was a UC Merced freshman in 2009. The program has grown considerably, has become more competitive and has developed into a more prominent slice of student life.
Prachumsri said it's easy to pitch both academic and athletic aspects of UC Merced on the recruiting trail.
"Sports are a big part of this school," he said. "You can make your own legacy here. Every year, people are making history."
Ultimately, the goal is for UC Merced to play at the NCAA Division II level. More immediately, the athletic program continues to grow and compete at a high level.
"The alumni coaches are great for our program and university," Dunham said. "It shows that the student athletes who come through our program are here for more than just playing the games — they are committed to our campus."