Alumni Support Community Trunk or Treat Event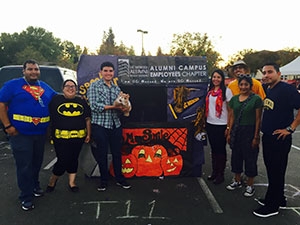 Members of the UC Merced Alumni Association's Alumni Campus Employees (ACE) chapter stepped up this Halloween to help with the annual Boys and Girls Club Trunk or Treat event, a safe alternative to traditional trick-or-treating.
This summer, while brainstorming ways get involved in the community, ACE members decided taking part in the Halloween experience for kids would be a great fit for the chapter.
"We thought it would be the perfect opportunity for our alumni campus employees to engage in local community service," said Dulcemaria Anaya, a UC Merced alumna and chair of ACE. "We wanted to make a direct, positive impact on the children of our community."
At the Trunk or Treat event, kids could visit more than 25 decorated trunks, walk through a haunted house and participate in games and activities. The event was offered to the Merced community as a free, fun and safe place for families to celebrate the spirit of Halloween.
Local alumni donated bags of candy and a dozen student, staff and alumni volunteers assisted with decorating the UC Merced-themed "trunk." Ten UC Merced graduates volunteered their time on Halloween night to participate in the Trunk or Treat event, handing out candy and engaging with the local community.
"It was really exciting to see kids interacting with our bobcat puppet that we had at our display," said Miguel Lopez, community outreach coordinator for ACE. "The kids had so much fun, and we had a part in helping to create new family memories."
The ACE chapter has been active in hosting monthly meetings and social events to bring together alumni for networking opportunities, in addition to participating in community service events.
"We are looking forward to growing our chapter and reaching out to as many alumni campus employees and alumni in the area," Anaya said.