Alumnus Named Women's Volleyball Coach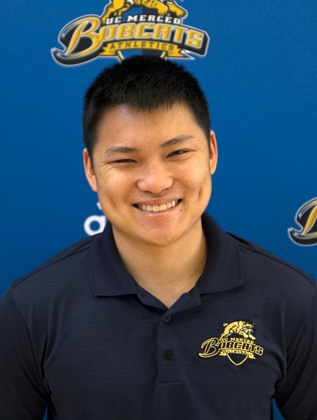 Surabordin "Ai" Prachumsri has been hired to take the helm as UC Merced's second head coach in women's volleyball and the first alumnus to become a head coach for the campus.
Prachumsri brings a combined seven years of experience as a student-athlete and assistant coach of UC Merced's men's volleyball team.
"We are excited to have Ai step in and take the reins of the women's volleyball program," Director of Recreation and Athletics David Dunham said. "His commitment to UC Merced will help grow our program to the next level."
Prachumsri has been a member of the UC Merced men's volleyball coaching staff for the past two seasons, assisting with administrative responsibilities and recruiting. He joined the women's volleyball program as the lead assistant for the 2015 season, which was the team's most successful to date — the Bobcats finished 14-10 overall and 6-4 in California Pacific Conference play.
As a student-athlete, Prachumsri competed as a member of the men's volleyball club team for three years. In 2013, when the program advanced to the intercollegiate level, he started at the libero position for UC Merced's inaugural squad.
He graduated with a bachelor's degree in bioengineering in 2014 and was honored on the Chancellor's List each year he attended UC Merced. While on campus, he served as the intramural sports student coordinator and as a student-athlete learning assistant, helping tutor fellow student-athletes.
"I feel extremely privileged to have the opportunity to coach at a school where I played, and I take so much pride in being part of this program," Prachumsri said. "We have a great group of returning players and a very talented incoming class."
The Bobcats opened their season Aug. 17 against Menlo College in Atherton.