Anita Hill Named 10th Recipient of Spendlove Prize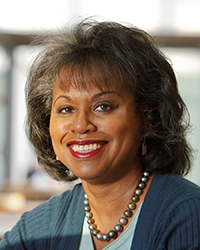 Anita Hill's public testimony during the Senate confirmation hearings for Supreme Court nominee Clarence Thomas in 1991 raised national awareness of sexual harassment and led to many changes in workplace laws and practices to protect both women and men from harassment.
At a ceremony this fall, 25 years after the hearings that thrust her into the national spotlight, Hill will become the 10th recipient of the Alice and Clifford Spendlove Prize in Social Justice, Diplomacy and Tolerance from UC Merced.
The Spendlove Prize was established at UC Merced's opening in 2005 through a generous gift to the university from Sherrie Spendlove in honor of her parents, lifelong Merced residents Alice and Clifford Spendlove.
"Anita Hill is a powerful role model for having the courage and the integrity to step up and speak the truth, for her calm dignity in holding to her truth in the face of vicious attacks and for her steadfastness in dedicating her life to teaching, mentoring, educating and enlightening young people in the tenets of social justice," Sherrie Spendlove said.
The 1991 hearings — portrayed in the recent HBO film "Confirmation," with Kerry Washington starring as Hill — are considered a watershed moment for women's rights. Spendlove noted that more women ran for and were voted into legislative office in the years immediately following the hearings.
Hill, who in 1989 became the first African-American tenured professor at the University of Oklahoma College of Law, is now the University Professor of Law in Brandeis University's Heller Graduate School of Policy and Management. Her latest book, "Reimagining Equality: Stories of Gender, Race and Finding Home," provides an analysis of the housing market collapse of 2008 and its impact on gender and racial equality.
"Dr. Hill gave public voice to the injustice represented by sexual harassment, which women previously suffered in silence, and her courage exemplifies the qualities that the prize honors," said Jill Robbins, dean of UC Merced's School of Social Sciences, Humanities and Arts (SSHA). "As a professor at Brandeis University, with publications addressing inequalities in housing, education and money-lending practices, Dr. Hill remains a role model for women and men concerned with questions of social justice."
Hill's selection as this year's Spendlove Prize recipient provides some symmetry — Charles Ogletree, who was Hill's legal counsel during the hearings, was named the first Spendlove Prize winner in 2005 and spoke at UC Merced's opening. Like many of the previous winners, Ogletree will be on hand to honor Hill at this year's event, scheduled for Oct. 24 at the Merced Theatre.
"My wife and daughter were not with me in Washington during the hearings, but speaking to them every night, I realized that I was on the side of history," said Ogletree, the Jesse Climenko Professor at Harvard Law School and Founding and Executive Director of the Charles Hamilton Houston Institute for Race and Justice. "I have never been proven wrong in representing Anita Hill."
The Spendlove Prize Selection Committee is chaired by the dean of SSHA and includes a representative from the Spendlove family or a designee; an undergraduate student; a graduate student; a faculty member; and representatives from the UC Merced community. The Spendlove Prize includes a $10,000 award.
Previous recipients of the award are:
2014 — Viola Gregg Liuzzo, a white activist for African-American civil rights who was slain by the Ku Klux Klan in Alabama in March 1965.
2013 — Jonathan D. Jansen, South Africa's first black dean, who is widely known for his policy of "reconciliation over revenge."
2012 — Peter Balakian, an award-winning author and a leading voice of Armenian Genocide recognition, and winner of the 2016 Pulitzer Prize for poetry.
2011 — Cruz Reynoso, a former California Supreme Court Justice and civil rights lawyer who has spent his life fighting for immigrants' rights.
2010 — Former President Jimmy Carter, who made the global quest for basic human rights a central part of his work post-presidency.
2009 — Faye J. Crosby, a professor of psychology at UC Santa Cruz and expert on affirmative action and inclusiveness.
2008 — Sara O'Meara and Yvonne Fedderson, Nobel Peace Prize nominees and founders of Childhelp, a nationwide organization devoted to the prevention and treatment of child abuse.
2007 — John Y. Tateishi, a civil rights activist who led the successful redress campaign for Japanese-Americans in the aftermath of World War II internment.
2005 — Charles J. Ogletree Jr., a Merced native, professor of law and founding executive director of the Charles Hamilton Houston Institute for Race and Justice at Harvard University.