Anniversary Issue of UC Merced Magazine Out Next Week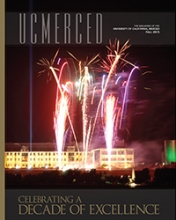 The next issue of UC Merced Magazine comes out Friday, Sept. 4, in honor of the 10th anniversary of UC Merced's official opening, Sept. 5, 2005.
The issue, entitled "Celebrating a Decade of Excellence," looks back at the campus's beginnings and looks ahead to the next 10 years, with stories including a profile of founding faculty member Christopher Viney, interim Vice Chancellor for Student Affairs Charles Nies' views on how the campus has changed and how it hasn't in the past 10 years, the growing emphasis on human health sciences, UC Water's push to amalgamate information for a secure water future, and an inside look at the neuroscientific education of exiled Tibetan monks in India.
The magazine will be available online starting Sept. 4, as will University Communications' newest feature video celebrating the campus's anniversary. Faculty and staff members will receive links for both via their UC Merced email that day.
Enjoy!